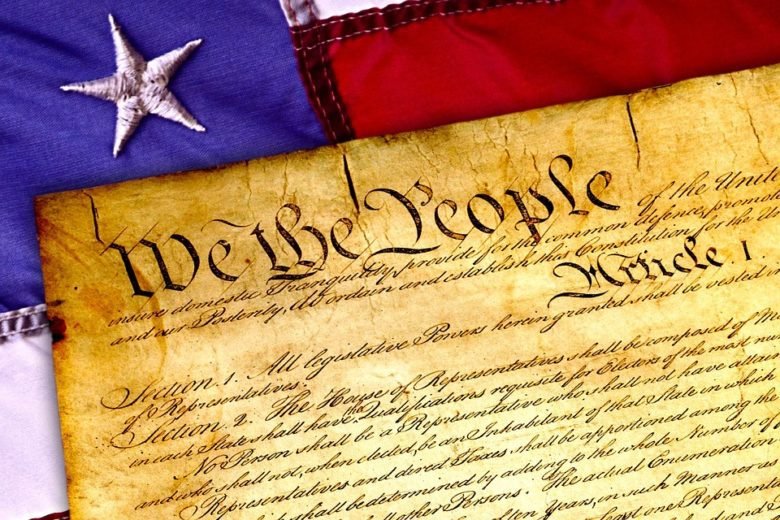 As an adult, we learn to take full responsibility for our actions and take ownership of our livelihood. As a parent, we take responsibility for raising and providing for our children and protecting them from harm's way. And that includes whatever substance we allow into our and their God-given bodies. Indeed, bodily autonomy is sacred. It is arguably one of those "certain unalienable Rights" endowed by our Creator.
In the last two years, many states in America experienced highly coercive and authoritarian enforcement of the COVID "vaccine," "shot" or "jab," particularly among the federal, military, corporate, medical and academic sectors.
It would be an understatement to suggest that many Americans thought their community had transformed into a police state. But there was pushback by those who championed personal liberty—to assert one's right as a sovereign human being, as a member of "we, the people," and not as a property of the state.
And here is an fascinating statistic: while 60 to 70 percent of people in Canada and many European nations have received an additional COVID shot following the two-dose protocol, only 33 percent of the U.S. population have received a booster dose as of September 20.
Now, a number of large corporations have dropped their mandate.
The Goldman Sachs Group, Inc. has reportedly lifted all COVID-related requirements. The global financial institution will no longer require its employees to be jabbed or tested and wear face masks to enter most offices. However, unjabbed workers in New York City (NYC) will still need an approved religious or medical exemption to enter office spaces.

Moreover, JPMorgan Chase & Co. also changed its policy in March, stating they will hire unjabbed individuals again.

According to an announcement on Cisco Systems, Inc.'s website in June, the worldwide leader in IT and networking has ceased to require inoculated employees for "office entry, travel, event attendance, or visiting customers, partners, and other third parties."
The reasons behind these decisions are arguably multifactorial, perhaps in response to an updated "guidance" from federal health officials or a potential staff shortage.
Jeff Levin-Scherz, a population health leader & Assistant Professor at Harvard Chan School of Public Health, reasons these companies "decided that the rationale for [mandates] had become weak enough that they don't want to continue."

Erin Grau is the co-founder & COO of Charter, a media company focused on transforming every workplace to "catalyze a new era of dynamic organizations where all workers thrive." According to Axios, she states there is an effort by executives to reduce any barriers to entry for new hires. Furthermore, the COVID-related requirements are reportedly expensive and time-consuming for employers. Frankly, it's one big unnecessary hassle.
And to this end, here's a shoutout to the folks in the Big Apple. In late September, it was reported that private businesses in NYC could stop demanding that their employees be jabbed, starting in early November. Instead, the private sector companies will be permitted to establish their own "vaccine" policies. However, this new rule doesn't apply to city workers, who will still need to show evidence of inoculation to contribute to the economy.
As early as mid-December 2021, some of the largest U.S. hospital systems dropped employee COVID requirements. According to The Wall Street Journal, Tenet Healthcare and Cleveland Clinic were among the companies dropping the mandates. 
Such a policy change occurred as several hospitals dealt with ongoing labor shortages and increased labor costs. For example, a Mercer Healthcare industry leader told CBS12 News, "Even a loss of a few people in healthcare today is much more problematic than it's ever been. The industry is having a heck of a time dealing with turnover." Indeed, for some, the COVID shots mandate could be "the straw that breaks the camel's back."
It's a numbers game. The more people refuse to comply with such invasive rules, the less likely it's possible for any federal-based or private-based company to enforce these coercive policies. Such institutions can keep terminating employment or push workers aside with unpaid leave—but practically speaking, for how many and for how long?
In mid-March, the Wall Street Journal reported that United Airlines would allow employees who hadn't received the COVID shots to return to work. This policy change came after roughly 4 percent, or 2,200 workers with an exemption on medical or religious grounds, had been placed on unpaid leave.
A reported drop in new cases, hospitalizations and loosening of masking requirements across the U.S. seemed to "suggest that the pandemic is beginning to meaningfully recede," according to the airline's president of human resources.
With all that said, new employees will still be required to show proof of inoculation if they want to work at United Airlines.
Fast forward to early September, and Hawaii Airlines announced it would be lifting its requirement for roughly 200 employees who declined to be jabbed. In addition, unlike United Airlines, workers who resigned or were terminated because they refused the shots—fewer than a hundred—can apply to return to Hawaii Airlines.
Since mid-August, the federal government has suspended the process of requiring proof of inoculation for federal employees. The "Safer Federal Workforce Task Force" guidance states that it "will take no action to implement or enforce the COVID-19 vaccination requirement pursuant to Executive Order 14043."
Such policy changes don't just happen without a good, legal fight by concerned citizens. According to a statement released by the Liberty Counsel in mid-September:
[T]he Biden administration will no longer implement or enforce Executive Order [EO] 14042, which directed federal agencies to require federal contractors and subcontractors to mandate that their employees receive the COVID-19 shot.
This announcement came after a recent decision from the Eleventh Circuit Court of Appeals. Thus, the process of requiring jabbed employees in new federal contracts has been dropped. And for contracts containing clauses through EO 14042, the federal government will take no action to enforce the clauses "absent further written notice from the agency."
Liberty Counsel Founder and Chairman Mat Staver was extremely articulate, and said:
Joe Biden and the federal government have clearly overstepped their authority in demanding a COVID shot mandate for federal contractors…it's time for the Biden administration to respect individual rights to decide what to inject in their bodies and to comply with the law.
Exactly. About time.
Despite the updated "guidance" by the federal government, many companies are holding on to the jab mandate. According to Axios Seattle, multinational companies such as Google, Edelman and Facebook continue to require that employees who enter the office are inoculated.
As much as Americans are often divided along partisan lines, it seems that America is becoming split between businesses that require "Mandatory (With Exemptions)" and "Not Mandatory" COVID shots.
This potential rupture in the United States must be prevented by sustained public noncompliance and grassroots creation of businesses that support like-minded individuals, and pushback through the legal system.
A group of forty-seven members of Congress are insisting the Secretary of the Department of Defense, Lloyd Austin, revoke the COVID shots mandate for all service members, civilian personnel and contractors. Austin is also being urged to reinstate the position of Americans discharged for noncompliance.
A mid-September letter to Austin was co-led by Republican U.S. Reps. Mike Johnson of Louisiana, Chip Roy of Texas and Thomas Massie of Kentucky. The letter questions the potential consequences of recruitment shortages by highlighting data from the Centers for Disease Control and Prevention (CDC):
As a result of your mandate, eight percent of the Army's approximately 1 million soldiers face expulsion, Army recruiters cannot meet their FY22 [Fiscal Year 2022] target, and the Army has cut its projected FY23 end strength by 12,000 soldiers…At the very end of the fiscal year, the Army has only met 52% of its FY22 recruiting goal. How will it recruit another 75,000 troops beyond its annual target to account for vaccine-related discharges?
Indeed, over forty percent of men aged 18 to 24 years old have refused the COVID shots. In the Southern United States, an area responsible for enlisting half of the U.S. military, that proportion is over fifty percent, automatically disqualifying the majority "in the most fertile recruiting grounds."
Again, it's a numbers game. The more people refuse the COVID shots—initially mandated last year under the Emergency Use Authorization law when not Food and Drug Administration (FDA) approved—the less likely such rules can endure for practical reasons.
A day before the letter was sent to Austin, the U.S. Marine Corps issued an administrative order stating it "will not enforce any order to accept COVID-19 vaccination, administratively separate, or retaliate against Marines in the class for asserting statutory rights under the Religious Freedom Restoration Act."
The order declared that a U.S. Federal District Court in Florida issued a preliminary injunction in mid-August "prohibiting the Marine Corps from taking certain actions" against service members seeking religious exemption.
Moreover, the order states that "no orders will be given to receive the vaccine, no counselings will be issued for refusing the vaccine, no administrative separation boards will be conducted," and that no discharges will be issued.
Now here comes the Big But. If the Florida court order is revoked for any reason, then Marines can still be subjected to separation for refusing to be jabbed.
According to an article by the Military Times in April, at least 1,968 Marine Corps have been discharged. To put this number into perspective, the Department of Defense has reported that over 1.9 million service members in the military have been "fully vaccinated" since mid-September.
The idea of being a lawful citizen and member of the armed forces who trust their government, while simultaneously resisting a mandate issued by that same government they've agreed to serve, can seem contradictory. And it's right here, where an intrinsic belief in those "certain inalienable rights" can protect our personal freedom—and the freedom of future generations.
Friday, March 13, 2020. That infamous date when the Trump administration declared a "National Emergency" concerning the reported outbreak of a "Novel Coronavirus Disease." Little did most people know how the next two years would unravel. Then, in February of this year, the Biden administration issued a "Notice on the Continuation of the National Emergency" concerning that very same outbreak.
Fast forward to late September, and appointed President Biden says the "pandemic is over" during an interview on CBS' 60 Minutes.
Well, isn't that shocking? Should the reported pandemic be "over," then Biden must end the national emergencies that have given the federal government additional powers to supposedly fight the "Novel Coronavirus Disease" over the last two years.
But if anything, the Biden administration has extended the public health emergency linked to the initial COVID declaration; this has been used to justify expanding Medicaid and the recent "student debt forgiveness," arguably a tactic to lure votes in the upcoming midterm elections.
Continuing this alleged emergency has allowed the federal government to bypass Congress and execute the next plan on the Biden administration's to-do list—a complete rejection of the constitutional separation of powers.
President Biden, if the reported COVID pandemic is over, then it's time to end the "National Emergency." Right. Now.
Content syndicated from Dear Rest of America with permission
Agree/Disagree with the author(s)? Let them know in the comments below and be heard by 10's of thousands of CDN readers each day!
Support Conservative Daily News with a small donation via
Paypal or credit card
that will go towards supporting the news and commentary you've come to appreciate.