Electoral map favors Trump as early ballot returns and new polls come in
As absentee and early ballot return figures come in, pollsters are adjusting their models to reflect the reality that 2016's voter turnout isn't going to look anything like 2012 – at all.
Center-city and minority voter turnout are subdued while rural and non-minority voters are turning out in much higher numbers than had previously been expected. The returns are also showing far fewer democrat ballots than 2012 while republicans are turning in far more ballots this election.
As polling models are adjusted to match the early exit polling and ballot returns, they are increasingly reflecting a Trump win in the electoral college.
Polls and exit data from New Hampshire, North Carolina, Florida, and Nevada have all moved those states from a tie to 'leaning Trump' while Colorado, and Pennsylvania data have moved those battlegrounds from 'leaning Hillary' to a tie.
Even left-leaning analyst Nate Silver of fivethirtyeight.com has shifted his electoral map towards Trump significantly and it continues to grow redder each day. Nate put North Carolina, Ohio, Nevada and Florida in Trump's corner in the last 48 hours. Just 3 days ago, fivethirtyeight.com only gave trump about a 17% chance of winning some of those states.
I've adjusted the CDN electoral prediction map a bit this morning to reflect polls in Nevada and New Hampshire, but otherwise it's largely unchanged.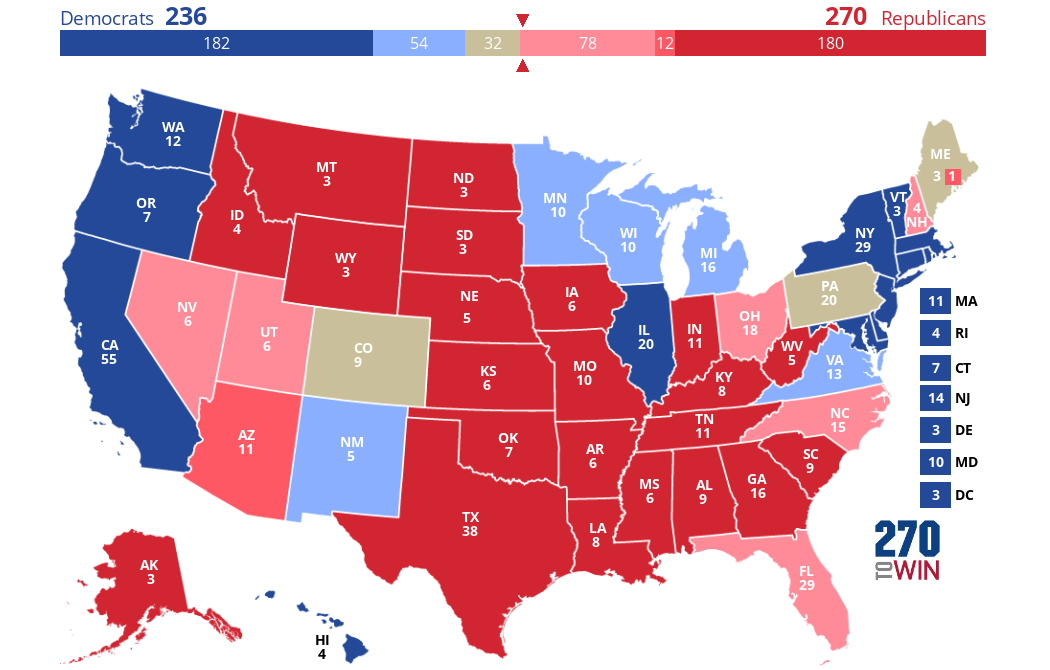 Click the map to create your own at
270toWin.com
Support Conservative Daily News with a small donation via
Paypal or credit card
that will go towards supporting the news and commentary you've come to appreciate.