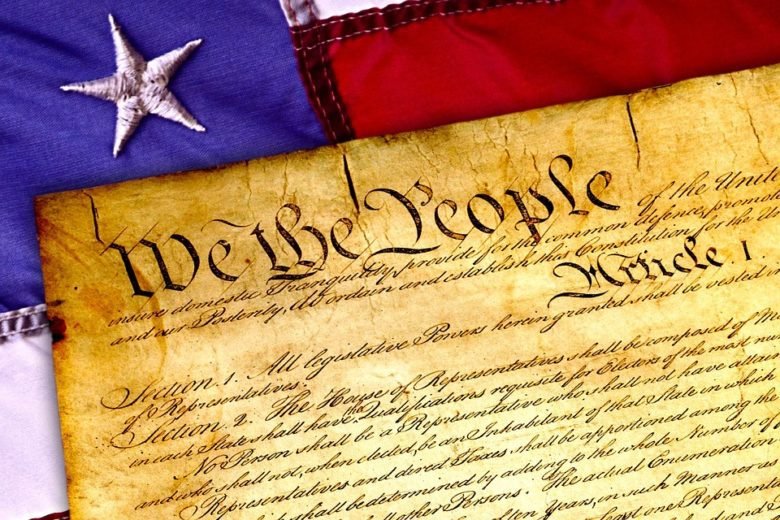 While many Americans are happy to put anything "COVID" related behind them, and move forward without thinking about sticking swabs up their nose, "vaccines" or breathing their carbon dioxide from coerced masking—the Biden administration announced it would begin "encouraging" Americans to get a new COVID jab lined up for this month.
In late August, White House Press Secretary Karine Jean-Pierre confirmed that the Biden administration wants Americans to get inoculated again, and told reporters at a press conference:
"Vaccinations against COVID-19 remains the safest protection for avoiding hospitalization, long-term health outcomes and death, which is why we are going to be encouraging Americans to stay up to date on their vaccines."
This news coincides with media outlets splashing reports about a new "variant" of the virus that reportedly causes COVID-19, and some medical and academic institutions have already started imposing mask mandates.
Will there be any attempt at pushing individuals to be inoculated for the sake of pursuing education or work? It is probably best to assume that jab mandates could raise their ugly head again, and for this reason, We, the People, have another chance at asserting our Natural Rights—which includes the right to bodily autonomy and basic self-respect.
The incentive to nudge Americans to get the latest COVID shot arrived as President Joe Biden said the week before the press conference that he plans to request more funding from Congress, to develop another new COVID injection.
Yes, that's right. Another "vaccine" for another variant labeled "BA.2.86" initially detected in Denmark, Israel, the U.K. and the U.S. Previously, the "XBB.1.5" variant was picked out by the Food and Drug Administration in June to target the booster COVID shots this fall.
It must be emphasized that the Department of Health and Human Services announced over $1.4 billion as part of a project in late August to support the development of novel "vaccines" and therapeutic technologies to protect against "COVID-19 variants" in years to come.
The initiative, known as "Project NextGen", is the follow-up to "Operation Warp Speed" under the Trump administration, which delivered the first set of COVID shots in reportedly less than a year—more specifically, reaching trials in only 69 days after the identification of the original virus that causes COVID-19.
Here's a quick reminder about the efficacy and reported safety of the COVID shots: Multiple studies have demonstrated that the injections provide anywhere between 3 to 6 months of "protection" against infection, fail to prevent the linked virus from being transmitted from one person to another, and, most concerningly, have been associated with severe adverse reactions—including death.
Even the Centers for Disease Control and Prevention (CDC) has stated that individuals previously infected with the original virus or those inoculated with available shots "may be more capable" of contracting the new variant.
In the past few weeks, mainstream media outlets funded by Big Pharma and beholden to corporate interests have spewed articles about emerging virus variants, and the need for masking and "vaccine" uptake.
Now according to data from the CDC for the week of August 13 through 19, patient hospitalizations with "confirmed COVID-19" were up 18.8 percent.
No sooner were New York City (NYC) officials reportedly urging residents to wear masks in public spaces. NYC Health Commissioner Dr. Ashwin Vasan cautioned that the BA.2.86 variant is "likely to evade immunity that has developed from vaccination or prior infection." Almost sounds like a sales pitch that lures residents back for their next "vaccine fix."
In Georgia, Morris Brown College re-implemented a two-week mask mandate as students move back on campus, also re-imposing social distancing and isolation mandates given "reports of positive cases among students."
Multiple hospitals have re-imposed mask mandates in the State of New York, including Auburn Community Hospital, United Health Services and the University Hospital in Syracuse. Meanwhile, in California, the healthcare facility Kaiser Permanente reinstated its mask mandate amid "an uptick in patients testing positive."
Those of us wishing to be left alone to breathe easily may have good reason to feel more assertive than three years ago, especially in resisting authoritarian restrictions. Notable legal decisions have ruled that the Biden administration erroneously abused its powers in pushing Americans to cover their faces or get inoculated.
For example, the Supreme Court blocked the Occupational Safety and Health Administration mandate that would have forced large businesses with a hundred or more employees to impose jab mandates. Furthermore, a Florida district court ruled in 2022 that the Transportation Security Administration could not force Americans to cover their faces, and consequently breathe in their carbon dioxide to travel by plane or train.
Republican Gov. Greg Abbott for Texas pledged there would be "NO mask mandates," while fellow GOP Rep. Brian Harrison referenced Texas Legislature Senate Bill 29, which prohibits local governments from requiring mandatory masks, shots, or business closures.
"Anyone who tells you that the Texas legislature did enough to fight COVID tyranny is misinformed or possibly lying," Harrison reportedly said. "Texas should lead the fight against all COVID mandates, but we aren't even following.  Despite Gov. Abbott demanding action, a majority in the House wanting to ban COVID mandates, and the Senate passing the Texas COVID Vaccine Freedom Act, why did the House Calendars Committee shockingly decide to allow unvaccinated Texans to be fired? Texans are starving for bold conservative leadership, and I will not stop fighting until all COVID mandates are banned in Texas."
Republican Senator Rand Paul for Kentucky criticized Dr. Anthony Fauci on X, formerly Twitter, in response to a CNN interview after the "pandemic" adviser to the Trump administration was confronted with a January meta-analysis study that concluded: "wearing a mask may make little to no difference in how many people caught a flu-like illness/COVID-like illness."
"Fauci admits that masks don't work for the public at large but still absurdly claims masks work on an individual basis," wrote Paul, who was suspended from YouTube in 2021 for questioning the effectiveness of masks, "More subterfuge."
And while Fauci noted in the interview that "we're not talking about mandates or forcing anybody," the former director of the National Institute of Allergy and Infectious Diseases said that if "COVID-19" cases were to rise to a level that compelled the CDC to recommend wearing masks, then individuals ought to "abide by the recommendation and take into account the risk to themselves and their families."
We've been here before.
But some of us are more in the know about a game plan to demoralize our spirit and strip away our Natural Rights—seemingly for the "greater good."
As the civil rights advocacy group "I Do Not Comply" states on its website, "connect with other freedom fighters in your community." We want to avoid feeling like "I'm the only one" in a sea of yes-men and yes-women.
We're in this together.
Agree/Disagree with the author(s)? Let them know in the comments below and be heard by 10's of thousands of CDN readers each day!
Support Conservative Daily News with a small donation via
Paypal or credit card
that will go towards supporting the news and commentary you've come to appreciate.