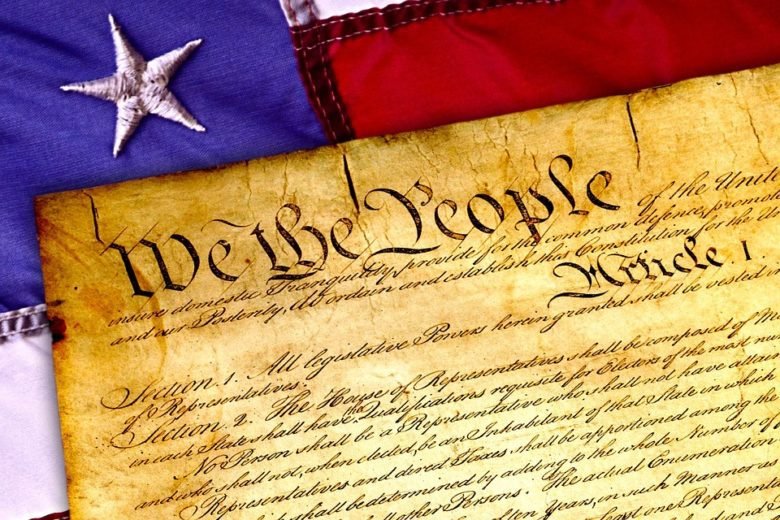 According to documents uncovered by conservative media watchdog Media Research Center (MRC), the Biden Administration used a $40 million grant from the Department of Homeland Security (DHS) and awarded over $350,000 to a university project that linked the Republican Party, and conservative and Christian organizations, with groups that sympathize with neo-Nazi ideology on a "pyramid of far-right radicalization." 
Yes.
Seriously.
Be careful what you wish for in life, business—and politics.
Be careful what you sign into law—because that same law might bite you under a different administration or weaponized against the very citizens it was meant to protect in the first place.
While our Founding Fathers understood the necessity of government to protect God-given natural rights, preserve hard-earned property, and provide a strong military against conceivable adversaries, there is a reason they wanted as small a federal government as possible.
Let us explore why.
Firstly, rewind the United States by over a decade.
In August 2011, the Obama Administration announced the "Countering Violent Extremism" (CVE) strategy, through which law enforcement and DHS agencies were to address and prevent "violent extremist activities, with particular activity by American residents and citizens inspired by al Qaeda and its ideology."
The CVE program was further supported by the Office of Community Partnerships (OCP) as announced by the DHS in September 2015. Yet, a congressional hearing before the House Homeland Security Subcommittee on Oversight and Management Efficiency in September 2016 revealed that:
Congress already appropriated $10 million to DHS for CVE grants for fiscal year 2016, but we [subcommittee] have no way of gauging whether CVE efforts have been successful or harmful or if the money is being spent wisely.
Now, according to an August 2019 release by the Department of Justice (DOJ) entitled Engaging With Communities To Prevent Violent Extremism: A Review of the Obama Administration's CVE Initiative, Final Report, the CVE initiative was undermined in the transition to a new team at the White House, but was nonetheless beginning to "gain momentum" toward preventing violent domestic extremism before its termination in May 2017 under the Trump Administration.
In December 2017, the OCP was renamed as the Office of Terrorism Prevention Partnerships (OTPP) under the Trump Administration, and then again revamped as the Office for Targeted Violence and Terrorism Prevention (TVTP) as per a statement in April 2019, to support "preventing all forms of terrorism, including both international and domestic, as well as preventing acts of targeted violence such as racially motivated violence."
In fact, according to a congressional hearing before the Committee on House Homeland Security in May 2019, the Office for TVTP would be used alongside other DHS agencies focused on "terrorism prevention," and references were made to a "disturbing rise in domestic terrorism, particularly far-right extremists, violence tied to White supremacist extremism, and White nationalism."
According to NBC News, a DHS spokesperson informed the news channel that the Office for TVTP would use "existing federal personnel" within the OTPP. Yet there was no specific mention of the amount of funding, leadership names or the number of staff involved. However, a former DHS official noted that the prior office had been reduced from 16 to seven full-time staffers, from $9 million to $0 in contracts.
Later, presidential candidate Joe Biden promised to end the Office for TVTP during the 2020 campaign trail. However, in May 2021, his administration announced a new Center for Prevention Programs and Partnerships (CP3) to help end "targeted violence and terrorism," replacing the Office for TVTP but carrying its grant program.
According to the Biden Administration, the CP3 will use behavioral threat assessment and management tools to address "early-risk factors that can lead to radicalization to violence." Moreover, state, local, tribal, and territorial governments must spend a minimum of $77 million, or at least 7.5 percent of their DHS grant awards, to combat perceived terrorist-related threats.
Frankly, it is unclear whether the CP3 has clear guidelines sensitive to constitutional values for its research and activities, or safeguards against violation of civil liberties and First Amendment rights.
Fast forward to 2023, and lo and behold, a damning report by the MRC reveals that the TVTP Grant Program under the CP3 awarded 80 grants for around $40 million, one of those recipients being the University of Dayton, "among the most radical grantees."
In the fiscal year of 2022, the University of Dayton was awarded $352,109 to create a project known as "Preventing Radicalization to Extremist Violence through Education, Network-Building and Training in Southwest Ohio" or "PREVENTS-OH," which states on its website that "domestic violent extremism and hate movements pose a serious threat to the realization of human rights."
Dayton's grant application, approved by the DHS, contained a graphic placing media outlets such as Fox News, The Heritage Foundation, Turning Point USA, Breitbart News and PragerU on a "Pyramid of Far-Right Radicalization" in which the highest level of "extremism" at the top of the pyramid includes organizations that openly endorse, are affiliated with or sympathetic to neo-Nazism.
Michael Loadenthal, a Research Fellow from the University of Cincinnati, presented the "Pyramid" chart during a seminar entitled Extremism, Rhetoric, and Democratic Precarity as part of a conference in November 2021.
During the same seminar, Nicole Widdersheim, deputy Washington director for Human Rights Watch and former senior policy adviser to the U.S. Holocaust Memorial Museum Center, compared Republican Florida Gov. Ron DeSantis' suggestion that a civilian military force could support the National Guard in emergencies—to the Holocaust during World War II.
According to the MRC report, Loadenthal, a self-proclaimed member of Antifa, explains how to create dummy accounts on social media platforms popular with users on the Right, including Telegram, Gab and Rumble, to "destabilize" conservative political movements.
"A lot of things we're doing are illegal," the researcher emphasizes during another seminar entitled White Nationalism Workshop, the report states. "A lot of it involves breaking the law," he adds.
At the same seminar, Loadenthal explains how "antifascists" could "pressure financial services" like "GoFundMe, Patreon, PayPal" and "pressure retailers" such as Amazon and "service providers" like "AirBnB" to "kick people off." The Antifa-supporting researcher claimed such actions are necessary because, apparently:
"[H]ate speech is more than speech. It's materiality. It's organizing. It's mobilization. It's not an exchange of ideas in the marketplace, and the best one wins. It's something else. It's the strategic deployment of organizational energy and power."
To think that the DHS could have endorsed a project that openly boasts about illegal activity in discriminating against individuals for exercising their First Amendment rights?
According to the Washington Examiner in late May, a DHS spokesperson told the media outlet that the seminar mentioned above was "not funded, organized, or hosted" by the agency, and continued to add:
"Similarly, the presented ["Pyramid"] chart was not developed, presented, or endorsed by the Department of Homeland Security, and was not part of any successful grant application to the Department of Homeland Security. DHS does not profile, target, or discriminate against any individual for exercising their constitutional rights protected by the First Amendment."
Dan Schneider, the vice president of MRC, accused the agency of "lying through its teeth once again." He continued to add:
"DHS did indeed fund the PREVENTS-OH program a year after a graph and documents were presented that equated Nazis to conservatives, Christians, and Republicans. … Laughably, the DHS Ohio grantee quickly scrubbed its website following this report, something innocent groups don't do. But it is too late; we have already copied it. We also have proof that 'PREVENTS-OH' actually hosted the conference and that DHS was an active participant, including featuring a senior DHS official at the conference."
On this note, a University of Dayton spokesperson told Fox News that the seminar in question "had no affiliation with and predates PREVENTS-OH."
It must be noted that the MRC obtained an internal memo that shows DHS Secretary Alejandro Mayorkas had designated the grant program a "high priority" of the Biden Administration.
Furthermore, the University of Dayton reportedly described a "series of workshops for stakeholders and subject matter experts" in its grant application and referenced a conference of seminars in November 2021 to assess "regional needs and capacities for violent extremism prevention." In fact, the DHS was even represented at the conference with Regional Prevention Coordinator Joseph Masztalics as a featured speaker. 
In continuing the statement to Fox News, the university declared that:
"The University of Dayton Human Rights Center received its PREVENTS-OH grant in the fall of 2022 and, to date, its community awareness events and dialogues have focused on all forms of domestic terrorism, targeted violence, and extremism. As we stated when awarded the grant, 'We look forward to partnering with Ohioans throughout the Miami Valley across all political and social affiliations and sectors of the community.'"
Brent Bozell, founder and president of the MRC, told Fox News that his organization's findings "calls for criminal prosecution" and that the American people "need to know those who are abusing their positions in the federal government will be held accountable for their criminal behavior."
Meanwhile, Republican Sen. Ted Cruz of Texas tweeted that the unearthed documents were "disgraceful" and that the "Biden admin's weaponization of government to target conservatives is profoundly dangerous."
American Conservative Union chairman Matt Schlapp, whose organization was highlighted in the "Pyramid of Far-Right Radicalization," echoed a similar response in a tweeted statement:
"The Biden Administration has weaponized the government to silence and intimidate conservative voices along with Americans who disagree with the Left's radical ideology. We now know they have active corrupt collaborators in President Biden and Secretary Mayorkas. Americans of all political stripes who value freedom and free expression should be gravely concerned. … This is yet another reason the House Republican Majority must begin hearings to ascertain the level of treachery from the Biden Regime."
According to Fox News, Bozell sent a letter to House Judiciary Committee Chairman Jim Jordan, a Republican Congressman representing Ohio, asking for the Subcommittee on the Weaponization of the Federal Government to investigate the DHS and to meet to discuss the MRC report, as well as the failure of the DHS to comply with Freedom of Information Act (FOIA) requests:
"'The Media Research Center has uncovered disturbing documentation that proves that the government is colluding with left-wing activists, academics, and state and local officials in an active effort to target some of the most prestigious conservatives and prominent political, religious, and media groups in the country, linking them directly to Nazis and terrorists,' the letter states. 'The American people need to know that those who are abusing their positions in the federal government will be held accountable for this criminal behavior.'"
Indeed, the MRC report came soon after documents were obtained by another conservative watchdog, in which mothers who advocate for protecting preborn life were listed as likely "radicalization suspects" in a violence prevention training guide only days after President Biden took office.
According to Breitbart News, Republican Congressman of California and House Speaker Kevin McCarthy said that House Republicans have already taken action to cut off taxpayer funding awarded to organizations used to "censor conservatives," such as NewsGuard and the Global Disinformation Index. McCarthy told the media outlet in a late April interview:
"I think America is going to be shocked by how much government was doing, working in these, using these government agencies with these private companies to … censor what people can see. … You're going to find not only are we going to hold them accountable, we're going to be able to use that basis to know legislatively what can we do that they can never do this again."
Indeed, but then according to the MRC report, the uncovered documents "only scratches the surface of the Biden DHS's nefarious TVTP grant program." The watchdog has reportedly obtained more documents from DHS grantees and other organizations through its "concentrated FOIA initiative and will be presenting further evidence of the Biden administration's efforts to target conservatives, Christians and the Republican Party going forward."
Aside from the expected verbal hollering and criticism from the Right, we can further support grassroots organizations to hold our politicians accountable with their feet to the fire, demanding actions—not just words.
Firstly, the DHS needs to eliminate funding channeled into programs that cast nearly half the U.S. of A as domestic or potential domestic terrorists—it is utterly shameful and downright incorrect.
Know that violent domestic activity or verbally abusive language that might whip up violent behavior exists on the entire political spectrum and must be addressed through targeted means—not generalizations by lumping any outlet outside the socially liberal and economic progressive bubble on a "Pyramid of Far-Right Radicalization."
Seriously—
Questioning election integrity is necessary to maintain an accurate voting outcome and diminish fraudulent activity

Wanting secure national borders by land, air, and sea is a minimal and essential requirement for any sovereign nation, and concerned citizens have every right to desire law enforcement on the southern border.
Expecting your local school to instil a deep understanding of civics and American history, providing students with the opportunity to learn about our nation's rich cultural and political heritage, and build the skills needed to fully participate in civic life, interwoven with a commitment to patriotism—is essential towards protecting homeland security.
Content syndicated from Dear Rest of America with permission
Agree/Disagree with the author(s)? Let them know in the comments below and be heard by 10's of thousands of CDN readers each day!
Support Conservative Daily News with a small donation via
Paypal or credit card
that will go towards supporting the news and commentary you've come to appreciate.