Wells Fargo CEO Charles Scharf issued a dire warning on the prospects for the American economy earlier this week.
During the Wall Street Journal "Future of Everything Festival" Tuesday, Scharf said that there was "no question" that the economy was going to take a serious turn for the worst.
"It's going to be hard to avoid some kind of recession," Mr. Scharf said.
Scharf's warning indicates that the 9.4% food price increase American families faced in April could get worse even as gasoline hits new record highs every day and housing rents break records of their own.
Summer vacations will likely take a hit too as analysts expect the average price of gas to top $6.00 per gallon during the busy travel season.
The current situation is crushing family budgets. More working families are turning to credit cards, payday loans, and other expensive financial tools to make ends meet and many are falling behind on rent, car payments, and mortgages. But wait, it's going to get worse.
The Federal Reserve has already raised rates twice this year and Chairman Powell says they intend to continue. Those increases will show up on credit card bills and mortgages and will slow business investment as loans become more expensive.
The economic slowdown that results while sky-high inflation is in place will likely bring about Carter-era stagflation.
White House policies are making everything worse. The Biden administration's inability to do math is holding up numerous oil and gas projects. They have also pulled Gulf of Mexico and Alaska leases off the table, shut down pipeline projects, and emptied the Strategic Petroleum Reserve to a level not seen since 1987.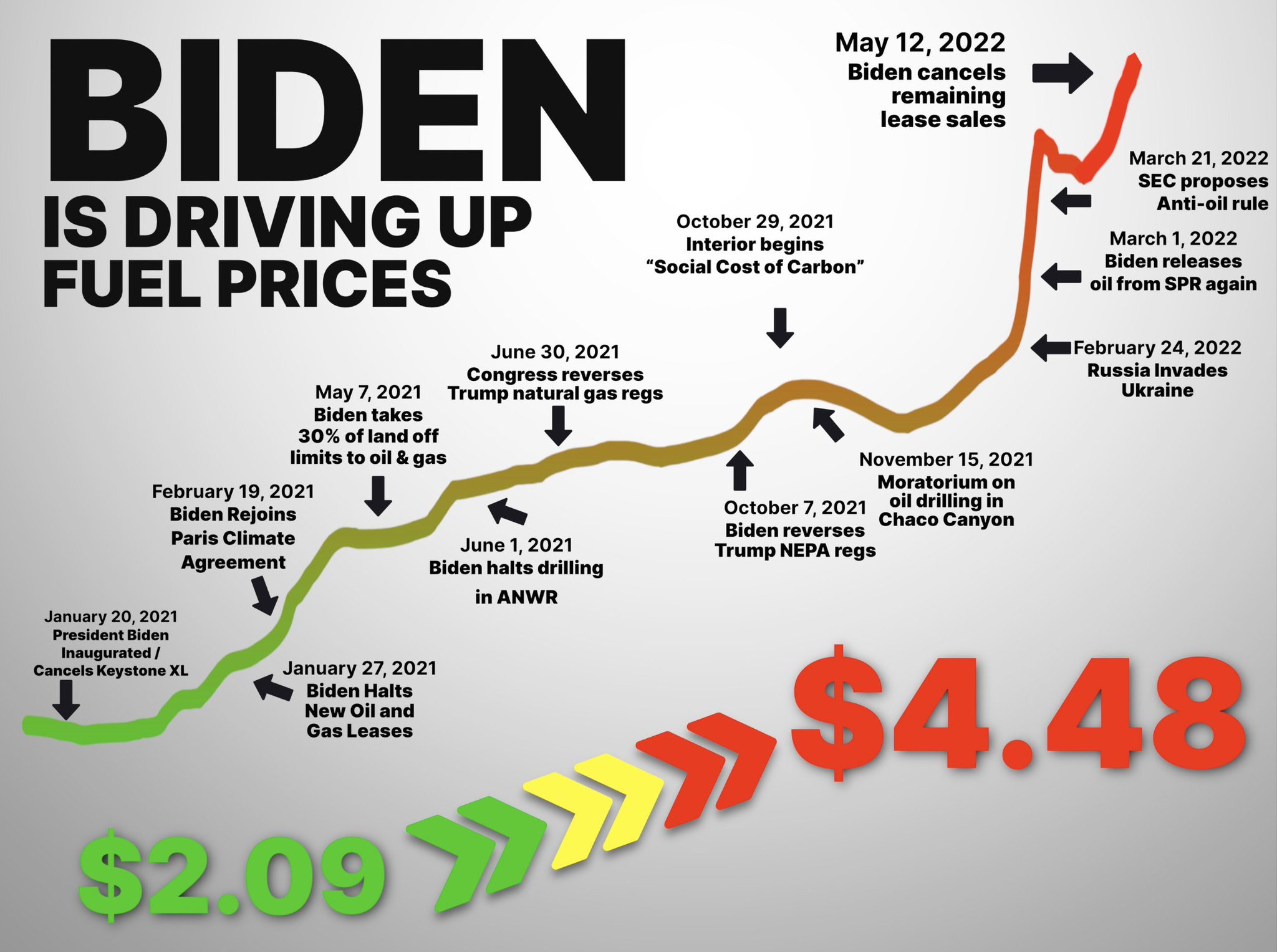 With Americans taking all those gut punches from the White House, what more could go wrong?
Well, get ready for a summer of power failures.
Democrats' push to replace traditional electric generation facilities with green alternatives is likely to cause blackouts across wide swaths of the country.
Forbes Editor-in-chief Steve Forbes said policy failures are part of the problem.

"The problem isn't that we'll be experiencing an unforeseeable surge in electricity; it's that bad government policies have created shortages," he wrote Thursday on Forbes.

"Chief among these are the mandates that utilities use more and more so-called renewable sources of energy — primarily from windmills and solar panels — while pressuring them to shut down fossil-fuel-fired generating plants and to decommission nuclear facilities," Forbes wrote.
Supply shortages will come as the administration is pushing Americans to buy electric vehicles which are little more than batteries on wheels that pull huge amounts of power from the grid when plugged in – especially when superfast chargers are used.
Americans are facing a summer of discontent and the Democrats will come face-to-face with voter sentiment in November.
Let's go Brandon.
Content created by Conservative Daily News and some content syndicated through CDN is available for re-publication without charge under the Creative Commons license. Visit our syndication page for details and requirements.
Support Conservative Daily News with a small donation via
Paypal or credit card
that will go towards supporting the news and commentary you've come to appreciate.