Checkmate!
Trump is good at 3-D chess, but the year 2020 has brought another complication—impeachment—so I decided to draw a cartoon showing our president playing 2020-D chess.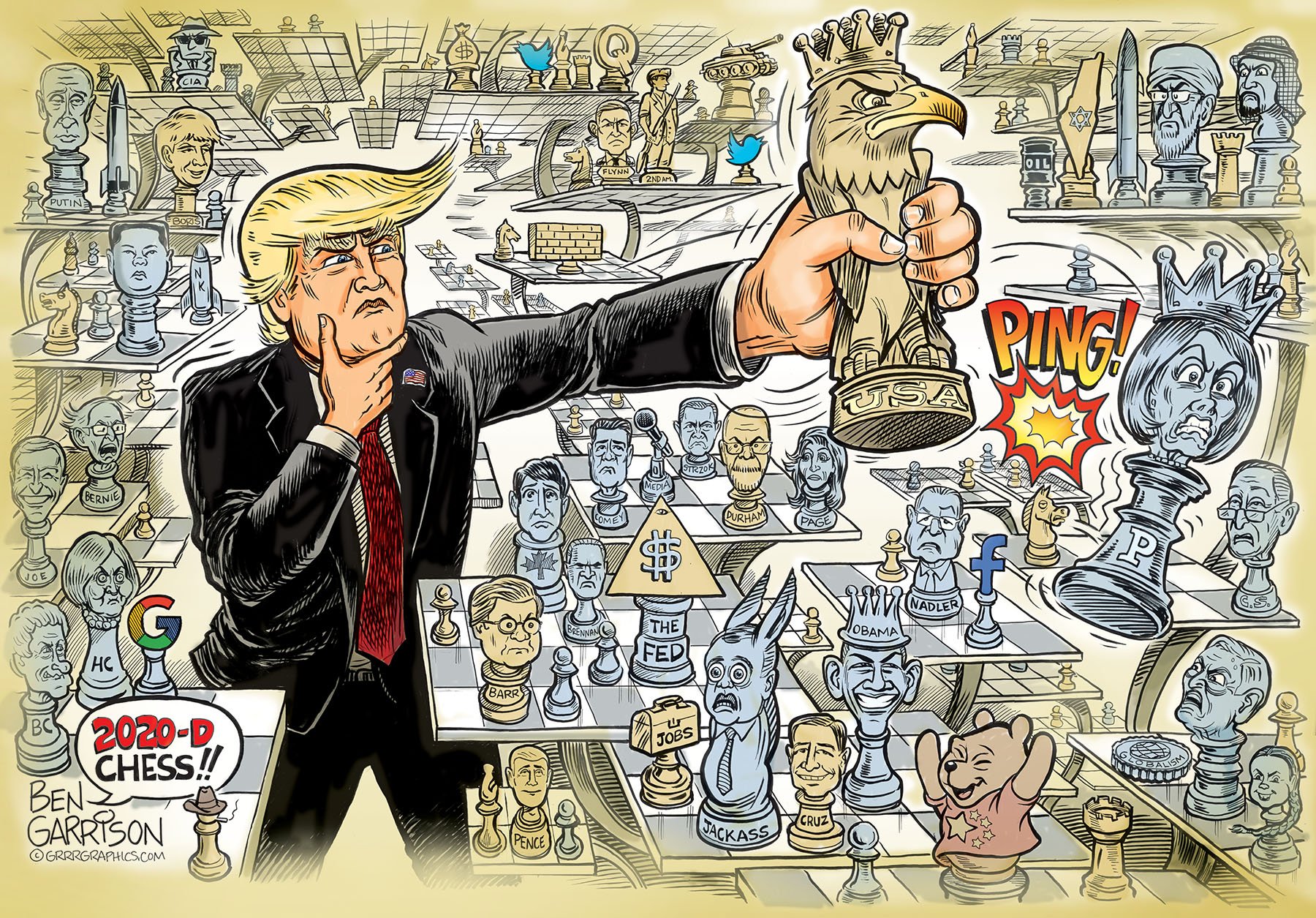 Led by Nancy Pelosi, the House Democrats have impeached our president and they did it without proper procedure, evidence or fairness.
The Democrats wanted Trump removed even before he was inaugurated. Their expensive Russia collusion hoax dragged on for several years before it finally collapsed. They then immediately moved on to another lie. If they can focus a perpetual laser beam of negativity onto Trump, it will hurt his chances of reelection. Or so they think.
(Article Continues Below Advertisement)
Pelosi was on a recent episode of Bill Maher's show and she used the word "Constitution" with every other breath. It was meant to distract us from what the House Democrats actually did. They trampled on our Constitution.
Our country has many important issues that deserve our attention. Instead we'll be focused on an impeachment trial in the Senate, thanks to the Democrats' all-consuming Trump Derangement Syndrome. If the case can't be thrown out right away, then the trial needs to end quickly.
You lose, Pelosi. Checkmate!
—Ben Garrison
(Article Continues Below Advertisement)
Sponsored Content
Can you find:
Boris Johnson
"Rocket man" Kim Jong Un
Putin
"Crazy" Bernie Sanders
"Sleepy" Joe Biden
"Crooked" Hillary
Bill Clinton "is a rapist"
AG Barr
"Bull" Durham
VP Pence
Ted Cruz
General Flynn
"Q"
Fake News
"Shifty" Piece of Schiff
"Prayerful" Pelosi
Nadler "the Hut"
"Crying" Chuck Schumer
Justin "Black Face" Trudeau
"Treasonous" Brennan
"Corny" Comey
Lisa "Oh, I love you Peter" Page
Peter "Oh, I love You Lisa" Strzok
Barrack "Not a Whiff of Scandal" Obama
China "oh bother"
Greta "How Dare You" Thunberg
"Slimy" Soros
Invest in a piece of history from Ben Garrison, a world-renowned political cartoonist, by owning this once in a lifetime collectors item depicting American history. 
ONLY ONE EXISTS IN THE WORLD.
Advertised as being "the best political cartoonist" in the world, Ben Garrison presents, "2020-D Chess," making this not only a special cartoon, but a must-own for any patriot who is looking for a premium, highly sought-after piece of history–and perfect for collectors interested in a savvy investment.
Just one exists in the entire world–Donald Trump Cartoons are in high demand.
Could this be worth tens of thousands down the road? Only time will tell….
Wake up Right!
Subscribe to our Morning Briefing
and get the news delivered to your inbox before breakfast!
Sponsored Content