First polls after debate show Hillary Strengthening in Key States
Whether it was her debate performance or the constant negative attacks and massive advertising push this week, Hillary has seen a resurgence in state polls released Friday.
Prior to Friday, the only polls done since the debate were "snap" and online polls – neither of which are to be trusted. Now we get a look at the first scientific polls to be carried out since Clinton and Trump faced-off on Monday.
Florida poll results
Two polls were released that covered the swing state of Florida.
In a Fox13/Opinion Savvy poll that was held September 28th-29th, Clinton edged out Trump by one point in a 4-way race that includes Jill Stein and Gary Johnson. The numbers are returning to roughly where they were before Hillary's 9/11 medical episode.
A Mason-Dixon poll held 9/27-9/29 showed an even wider deficit for Trump with Hillary up 4 points (46-42).
These two polls added in with the Suffolk poll from last week show that Florida is still very much a toss-up.
Nevada poll results
A Suffolk Poll carried out from September 27th – 29th shows a sudden reversal for Donald Trump in the Silver State as Clinton soundly topped the billionaire by 6 points, well outside the margin of error. Prior to this poll, Trump had held a steady 2-3 point lead in Nevada. A 9 point swing could either be an outlier or a sign of things to come.
Nevada has now moved back to toss-up from leaning GOP.
New Hampshire Poll Results
A new WBUR/MassINC poll confirms last week's Monmouth poll that shows Hillary regaining the Granite state.
Clinton topped Trump by 7 points (42-35) in New Hampshire moving the state back to leaning Democrat.
Analysis
The Florida polls show that Donald is still struggling with women and minorities. Hillary garnered the female vote by an 18-point margin, hispanics by 35 and the black vote by 91 points (92-1). That huge disparity in black support is likely why Hillary's team was panicking when data started to show that Florida black voters might just not show up on election day.
The Alicia Machado dust-up could be a small part of the problem for Trump with women, but may largely be forgotten by election day.
Nevada is a more troubling result for the Trump campaign unless it proves an outlier. Only time will tell.
Trump will need to re-focus efforts on being the level-headed, on-script Donald instead of the version America remembers from the primaries. Doubling-down on Machado and getting into late-night Twitter battles has not helped him – at all.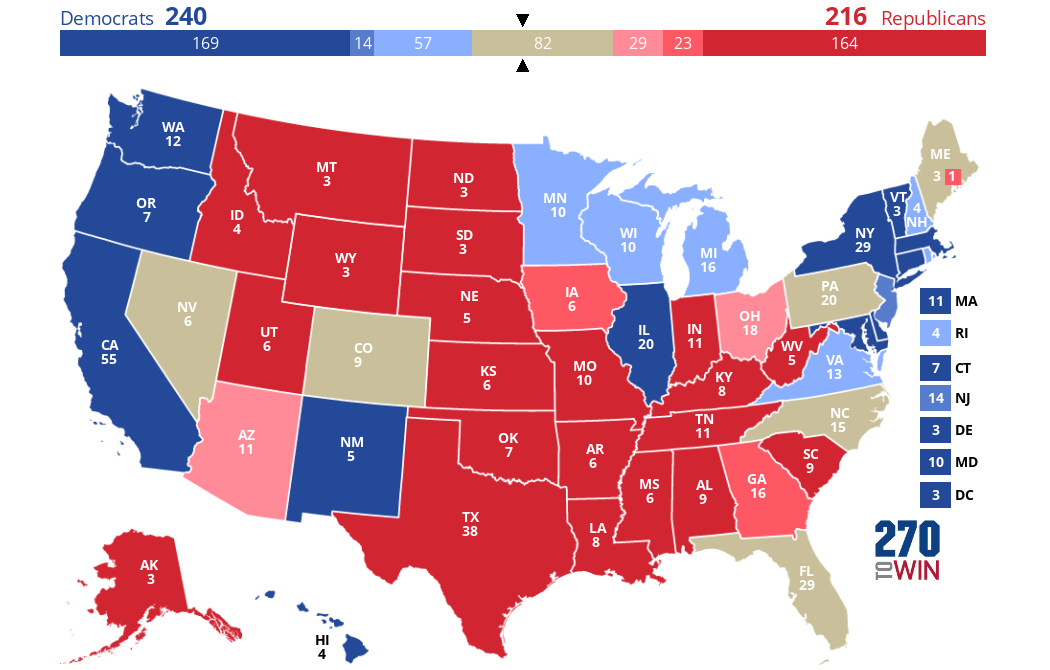 *

Click the map to create your own at
270toWin.com
*update 10/1: Map updated to correct Nevada status as "toss-up". Was mistakenly colored "leaning DEM"
Support Conservative Daily News with a small donation via
Paypal or credit card
that will go towards supporting the news and commentary you've come to appreciate.