Russian President Vladimir Putin has repeatedly referred to the "genocide" happening in the Donbas region of Southeast Ukraine and shelling on Thursday completes the story he will use as pretext for an invasion.
Putin refers to genocide
Separatists shell Ukraine Village
Russia rejects U.S. proposal
Russia expels U.S. Embassy's #2 official
Ukraine, UK, and Poland form Alliance
"Russian-backed separatists in eastern Ukraine claimed a significant deterioration along the front line with Ukrainian government forces on Thursday, accusing Ukraine of launching "large-scale" shelling of civilian areas in the breakaway regions."
"For the past few weeks, Russian propaganda and the separatists in Donbas have been laying the groundwork to accuse Ukraine of launching an offensive, claiming that the Ukrainian government has been massing its forces and also alleging to have found evidence of atrocities."
Shortly after that report, Ukraine accused Russia-backed separatists of shelling Stanytsia Luhanska – a Ukrainian-controlled village – and hitting a school.
Russia currently has more than 180,000 troops, numerous tanks, artillery, combat aircraft and naval vessels surrounding Ukraine. All that the Russians need is something they can point to as provocation for the invasion of a sovereign nation.
The United States government believes the Russians will launch a major offensive very soon.
"My sense is it will happen within the next several days," President Biden said Thursday. "Every indication we have is they are prepared to go into Ukraine, attack Ukraine."
Today, the Biden administration received Russia's 2,300-word written response to their security proposal. Russia said that the American proposal "did not give a constructive response to the basic elements of the draft treaty with the United States prepared by the Russian side on security guarantees."
In the response, the Russians again demanded a halt to NATO expansion, specifically preventing Ukraine and Georgia from becoming member nations or allowing NATO troops in those countries for any reason. As NATO has signaled that it could never agree to such terms, any hope for diplomacy has faded.
"In the absence of the readiness of the American side to agree on firm, legally binding guarantees of our security from the United States and its allies, Russia will be forced to respond, including through the implementation of military-technical measures," Russia asserted in its response.
Russia said on Tuesday that it was returning troops and equipment to their home bases – allegedly away from the Ukraine border, but NATO, U.N. and U.S. observers say the opposite is happening and President Biden announced so much today.
"They have not moved any of their troops out, they moved more troops in… we have reason to believe that they are engaged in a false flag operation," Biden told reporters.
The U.K. Ministry of Defence released this graphic showing Russia has more than enough equipment and manpower to completely overrun Ukraine at a date and time of their choosing.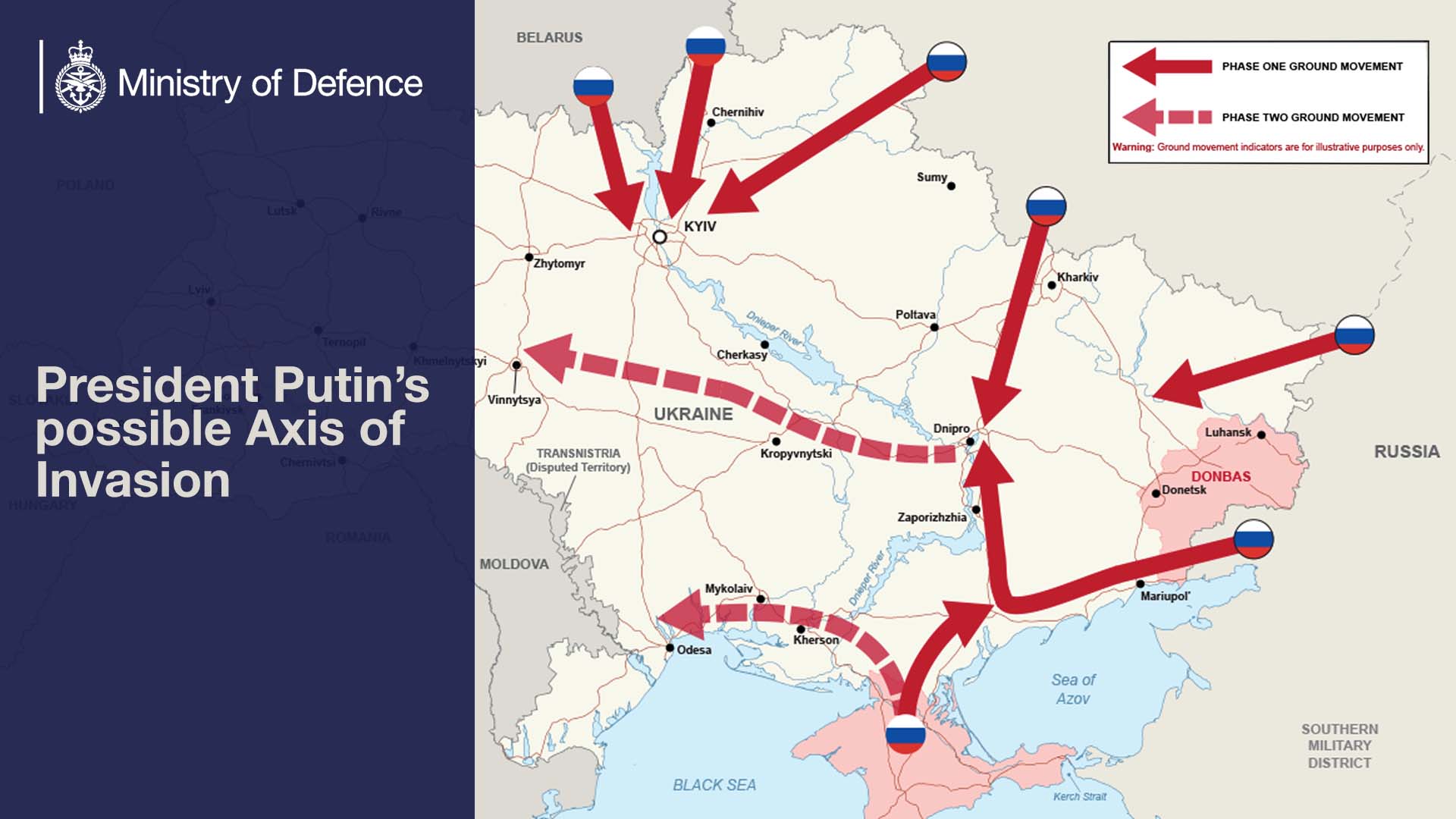 The U.K., Poland and Ukraine announced a "trilateral alliance" Thursday in which the three countries will cooperate on defense, economy, trade and "countering disinformation". The agreement was formed during U.K. Foreign Secretary Liz Truss' trip to Kiev (Kyiv).
Today the Russian Foreign Ministry's website went offline shortly after announcing the expulsion of U.S. Deputy Ambassador Bartle Gorman from the country. Gorman's expulsion was confirmed later by the State Department.
"Russia's action against our [Deputy Chief of Mission] was unprovoked and we consider this an escalatory step and are considering our response," a State Department official said Thursday.
The Biden administration is now sending Secretary of State Antony Blinken to New York City where he will address the United Nations Security Council on the current situation around Ukraine.
Content created by Conservative Daily News and some content syndicated through CDN is available for re-publication without charge under the Creative Commons license. Visit our syndication page for details and requirements.
Support Conservative Daily News with a small donation via
Paypal or credit card
that will go towards supporting the news and commentary you've come to appreciate.