Fox News Sunday's host Chris Wallace announced today that he is leaving the network after 18 years.
"After 18 years, this is my final FOX News Sunday," Wallace said. "It is the last time – and I say this with real sadness – we will meet like this."
"I want to try something new, to go beyond politics to all the things I'm interested in," he added.
The announcement took many at FNC by complete surprise.
But the internet was not so kind to the controversial Sunday morning show host who treated conservative lawmakers and former President Trump with disdain.
Where is Chris Wallace Going?
Rumors surfaced just minutes after his announcement on where Wallace might land. Variety reported Sunday morning that Wallace is going to CNN's upcoming streaming service, CNN+, which is set to launch in the first quarter of 2022.
UPDATE: CNN+ Confirmed
In a statement Sunday morning, CNN+ confirmed that Wallace has joined their upcoming streaming platform.
"I am honored and delighted to join Jeff Zucker and his great team," Wallace gushed – completely ignoring the Lemon, Toobin, Cuomo et al issues at the obviously hard-left network.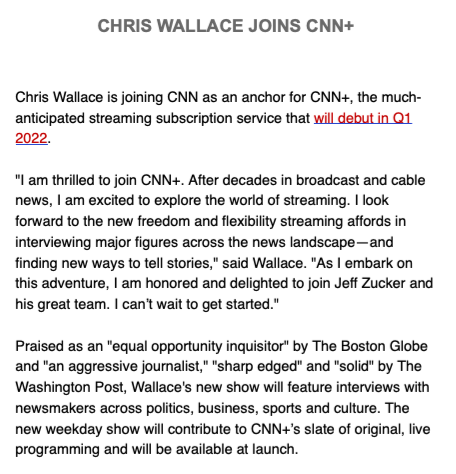 Wallace's reference to doing something "beyond politics" could signal a move to a "60 Minutes" magazine-style offering that covers more than D.C. infighting and palace intrigue.
Why Did Chris Wallace Leave Fox News?
Some speculate that Wallace's contract with Fox News, last renewed in 2017, has come to an end. With his show coming in fourth in Sunday show ratings, FNC likely played hardball on a renewal.
Who Will Replace Chris Wallace on Fox News Sunday?
Fox News said in a statement Sunday that they will rotate a cadre of hosts through the seat until they figure out who gets it for the long haul.
"We are extremely proud of our journalism and the stellar team that Chris Wallace was a part of for 18 years," the statement reads. "The legacy of FOX News Sunday will continue with our star journalists, many of whom will rotate in the position until a permanent host is named."
Content created by Conservative Daily News and some content syndicated through CDN is available for re-publication without charge under the Creative Commons license. Visit our syndication page for details and requirements.
Support Conservative Daily News with a small donation via
Paypal or credit card
that will go towards supporting the news and commentary you've come to appreciate.