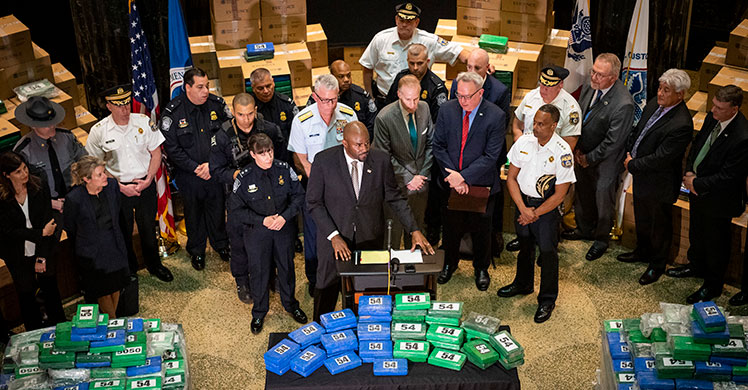 On June 21, 2019, Homeland Security Investigations (HSI) Philadelphia and U.S. Customs and Border Protection (CBP) hosted a joint press conference at the U.S. Custom House in Philadelphia to announce the multi-agency seizure of over 17 tons of cocaine with an estimated street value of about $1.1 billion. The press conference included remarks from HSI Philadelphia Special Agent in Charge Marlon V. Miller; CBP Director of Field Operations Casey Durst; Rear Admiral Keith Smith, U.S. Coast Guard Commander, 5th Coast Guard District; U.S. Attorney William M. McSwain, Eastern District of Pennsylvania and U.S. Drug Czar Jim Carroll, White House Office of National Drug Control Policy.
Several days earlier, CBP, HSI, and U.S. Coast Guard authorities detected anomalies while examining seven shipping containers aboard the MSC Gayane, a 1,030-foot Liberian-flagged container ship. The boarding team escorted the ship to a port in South Philadelphia and continued its inspection. The containers were unloaded from the vessel on Monday, June 17, 2019, at which time HSI and CBP escorted the containers to CBP's Centralized Examination Station and began the process of offloading truckloads of packaged cocaine from the containers.
A combined 15,582 bricks, totaling more than 35,000 pounds of a white, powdery substance testing positive for cocaine were discovered during the multi-agency enforcement operation. Authorities seized the cocaine as well as $56,330 found on the vessel believed to be proceeds from illegal smuggling activities. HSI Philadelphia special agents, in conjunction with the U.S. Attorney's Office for the Eastern District of Pennsylvania arrested six crewmembers from the vessel for their involvement in the smuggling operation, and the investigation is ongoing.
"This cocaine seizure is a tremendous accomplishment that demonstrates the combined power of HSI's collaboration with CBP, the Coast Guard and our state and local law enforcement partners," said Marlon Miller, Special Agent in Charge of HSI Philadelphia. "Narcotics smuggling continues to pose a real and tangible threat to our communities, particularly when such activities are perpetuated by the crewmembers of a commercial vessel, as alleged in this investigation. HSI will continue to vigorously pursue investigations that target drug trafficking organizations engaged in the worldwide smuggling of dangerous narcotics."
In addition to CBP and U.S. Coast Guard, the seizure and resulting investigation involves participation from HSI New York, HSI Caribbean, HSI Boston, HSI Technical Operations, Joint Task Force-East, the National Targeting Center-Investigations, Philadelphia Police Department, Pennsylvania Office of Attorney General's Bureau of Narcotics, Pennsylvania State Police, Delaware State Police, Nether Providence Police Department, Montgomery County (PA) Sheriff's Department, Robbinsville Police Department, Ewing Police Department, Mercer County Prosecutors Office, and Warrington Township Police.
Content created by Conservative Daily News is available for re-publication without charge under the Creative Commons license. Visit our syndication page for details and requirements.
Support Conservative Daily News with a small donation via
Paypal or credit card
that will go towards supporting the news and commentary you've come to appreciate.