US News
12 NYC companies join the IMAGE program, including 5 7-Eleven franchises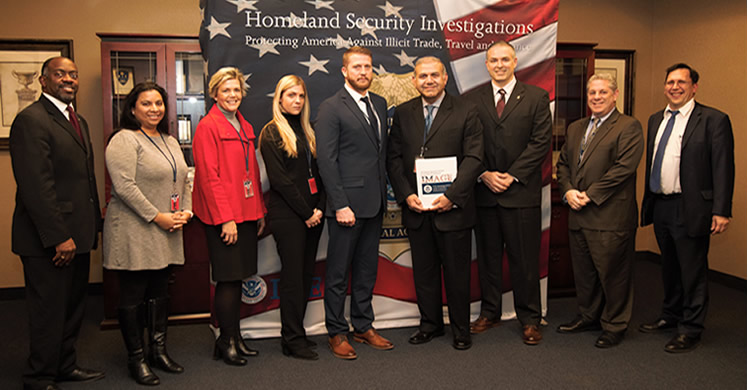 NEW YORK — A dozen New York based businesses have partnered with U.S. Immigration and Customs Enforcement's (ICE), Homeland Security Investigations (HSI) in New York Thursday by joining the agency's employment compliance program IMAGE, or "ICE Mutual Agreement between Government and Employers."
Five corporations, each individually owning one 7-Eleven franchise, joined the IMAGE program.  FYN Management, Inc.; HYN, Inc.; YN 1, Inc.; 5th Avenue Wali, Inc.; and ZHSG, Inc. were represented by Yousaf Naseer, the President of all five corporations.  Combined, these companies employ approximately 60 individuals. Four of the locations are located on Long Island and one is located in Manhattan. Besides owning five franchises, Naseer is also the President of the United Franchise Owners of Long Island & New York, which represents all of the 7-Eleven franchise owners on Long Island, in the Five Boroughs of New York City, and in Westchester and Putnam Counties. 
Greenman-Pederson, Inc. (GPI) and its four subsidiary corporations, headquartered in Babylon, New York and has over forty offices throughout the US. The company was founded in 1966 and in 1967 was awarded its first New York State Department of Transportation contract and in 1972 GPI secured its first federal contract from the US Army Corps of Engineers.  Amongst the disciplines that GPI provides services for are bridges, building systems, construction management, civil & site engineering, environmental, highway, traffic, water & waste systems, surveying & mapping, and planning & design. GPI has worked on an incredibly long list of major projects, including the Brooklyn Bridge, Manhattan Bridge, Williamsburg Bridge, George Washington Bridge and the "new" Tappan Zee Bridge. The four subsidiary corporations are as follows: GPI Laboratories, Inc.; Underwater Engineering Services, Inc.; GPI Geospatial, Inc.; and Keller & Kirkpatrick, Inc. All of their HR functions are handled out of Babylon, New York
Compass Workforce Solutions (Compass) is a human resources company that was started in 2009 by Christine Ippolito, who is the firm's principal. Headquartered in Hauppauge, New York, Compass provides Human resource services to smaller companies that are headquartered in New York and Northern New Jersey, as well as servicing those companies' employees, no matter where in the United States they work.  Compass employs eight employees that are human resource professionals. 
Finally, Strategic Security Corp. (SSC) is a nationwide security firm that is headquartered in Commack, New York. SSC has approximately 600 employees and counts the US Government (FEMA & the SEC) and some Fortune 500 companies amongst its clients. The company was founded in 2002 and is a woman owned small business which can provide services to the following industries: Retail Industry, Fast Food Industry, Banking Industry, Educational Institutions, Commercial Real Estate, Financial Institutions, Government Services, Manufacturing & Industrial, Residential Communities, Shopping Malls & Centers, Hospitality Industry, Transportation, Utilities, Sporting & Event Industry.  Many of their employees are prior law enforcement or military. SSC provides security services and risk reduction through guarding services, executive protection and intelligence services.
Yousaf Naseer of 7-11 stated, "I became a 7-Eleven franchisee in 1985 and have been a part of United Franchise Owners of Long Island and New York (UFOLI) for more than twenty-five years. I have served as President of UFOLI since 2017. As a 7-Eleven franchisee, I decided to participate in the IMAGE program to work closely with Homeland Security Investigations, so that I can ensure that I have established proper hiring procedures for my businesses. IMAGE provides me with the training, tools, and resources I need to hire an authorized workforce and to eliminate all clerical mistakes while properly completing the I-9 Forms.  The E- Verify program makes it easy for me, as an employer, to ensure that all of my employees are authorized to work in the United States and that all of their documents are authentic. It gives me the ability to avoid non-compliance with the immigration laws."
Vanessa Cifuentes, Assistant Vice President/Corporate HR manager of GPI stated, "GPI works with many federal and state agencies to complete a variety of vital public work contracts. We are committed to maintaining our integrity in employment practices and are proud participants of the IMAGE program."
Christine Ippolito of Compass stated, "As an Human Resource solution provider, Compass felt compelled to set an example with our own compliance and commitment to an authorized workforce as well as provide our clients with access to answers directly from Homeland Security to their unique questions or circumstances around having an authorized workforce."
Joseph Sordi, Vice President of Operations for SSC stated, " Strategic Security Corp's corporate goal is the safety and protection of our clients by contributing to the national security apparatus. SSC has partnered with Homeland Security Investigations' Image Program in our relentless pursuit of a professional, authorized workforce that is in compliance with all local, state and federal laws and set an industry standard that others will endeavor to emulate." 
To qualify for IMAGE certification, partners agree to conduct a self-assessment of their hiring practices to uncover vulnerabilities that could be exploited by unauthorized workers; enroll in E-verify, an employment eligibility verification program; train staff on IMAGE Best Employment Practices and the use of new screening tools; and undergo a Form I-9 audit by ICE.
Undocumented workers create vulnerabilities in today's marketplace by presenting false documents to gain employment, completing applications for fraudulent benefits, and stealing identities of legal United States workers. To combat this, ICE initiated the IMAGE program in 2006.
All IMAGE members must participate in the Department of Homeland Security (DHS) E-Verify employment eligibility verification program. Through this program, employers can verify that newly hired employees are eligible to work in the United States. This Internet-based system is available throughout the nation and is free to employers. It provides an automated link to the Social Security Administration database and DHS immigration records.
Upon enrollment in and commitment to the IMAGE Best Employment Practices, program participants are deemed "IMAGE certified," a distinction DHS and ICE believe will become an industry standard. IMAGE also provides free training to all employers on the provisions surrounding the Form I-9, fraudulent document detection, and building a solid immigration compliance model.
Companies interested in more information on the IMAGE program can visit www.ICE.gov/image.
Content created by Conservative Daily News is available without charge to any eligible news publisher that can provide a large audience. For licensing opportunities of our original content, please contact editor@conservativedailynews.comg
Support Conservative Daily News with a small donation via
Paypal or credit card
that will go towards supporting the news and commentary you've come to appreciate.