Trump up in two key battleground states just ahead of tonight's debate
As the candidates make final preparations for tonight's debate, new polls show that there is much more at stake for Clinton than for Trump.
According to a slew of polls released in the last 48 hours, Colorado and Pennsylvania are no longer shoe-ins for Hillary Clinton. Without those two key states, her path to the required 270 electoral votes is effectively blocked.
Colorado's status hinges upon Gary Johnson and Jill Stein staying in the race. The state's proximity to New Mexico, where Johnson was governor, and the "weed vote" have him polling as high as 13% in the Centennial State and pulling far more voters from Hillary than Donald. Stein managed just 6% support.
A Sunday Gravis poll shows Trump up 4 points over his Democratic opponent  (41-37) when the race includes Johnson (6) and Stein (6).
A CNN/ORC poll released Monday confirmed the  Johnson effect showing Donald up by one point over Hillary (42-41) with Johnson (13) and Stein (3) included.
When third party candidates are removed from the results, Hillary tops Trump, but only marginally. The CNN/ORC poll reported a 2-point edge for Clinton (49-47) – still well within the poll's margin of error.
If Jill and Gary stay in, Hillary could lose Colorado. For now, we're changing our analysis to reflect it being a toss-up.
The results in Pennsylvania reflect the same sentiment, although the third party pull is much more muted.
A CNN/ORC poll released today and a Morning Call poll released on Sunday both confirm that Hillary's lead has been substantially cut. Hillary leads by only 1 point in the CNN poll (45-44) when Stein (3) and Johnson (6)  are included. Clinton holds a 3 point edge over Trump (50-47) in a head-to-head matchup. The Morning call poll gives Hillary a 2 point edge in a 4-way race and a 3-point lead with Stein and Johnson excluded.
Regardless of whether Stein and Johnson stay in, Hillary's lead has been cut to within the margin-of-error in a state she led by 13 points in early August.
The trendline is for Trump to overtake Hillary within days, but tonight's debate is a huge question mark. For now, I'm moving PA to toss-up and will watch what happens tonight and upcoming polls.
2016 Electoral College Vote Map (considers polling data and trends from last 4 weeks)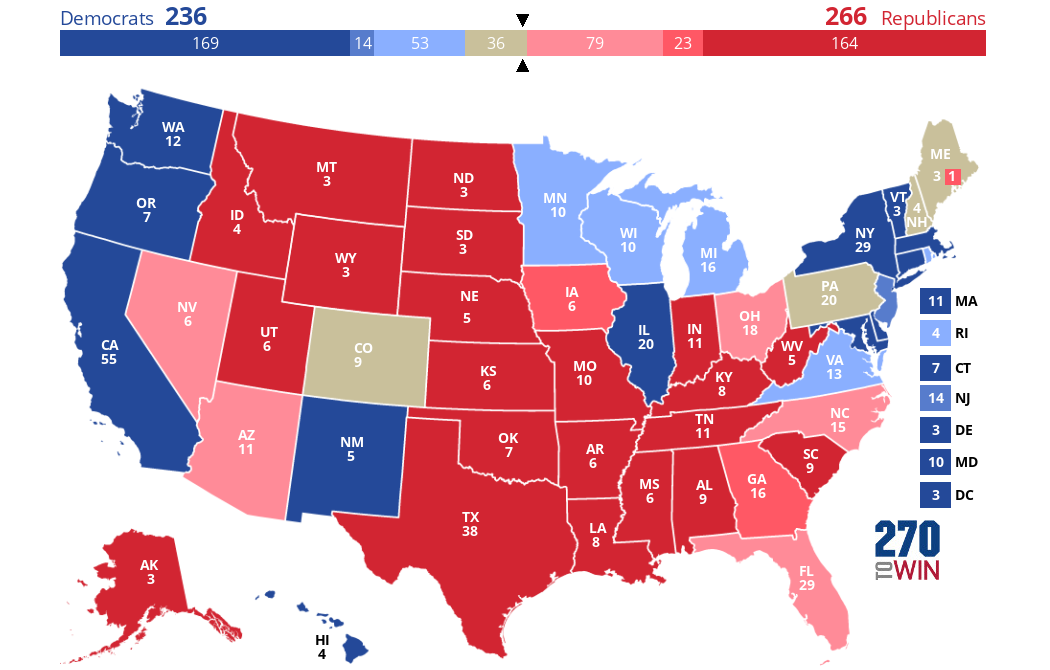 Click the map to create your own at
270toWin.com
Support Conservative Daily News with a small donation via
Paypal or credit card
that will go towards supporting the news and commentary you've come to appreciate.