Presidential race tightens as Hillary's 'run out the clock' strategy falls flat
Donald Trump is surging in battleground states while Hillary tries to run out the clock by staying hidden from public view and spending massive amounts of money on ads and offices.
"It used to look like Clinton should just spend the fall at the International Space Station watching Trump implode, but it raises the question of whether you can disappear from the campaign trail without it having some effect," said Marquette University pollster Charles Franklin, whose Wisconsin survey found Clinton's favorability declining across every metric.

Clinton has gone days between events in some cases and hasn't given a press conference in more than 270 days, a fact that Republicans have been eager to highlight.
Some key battleground state polls came out Friday that showed Clinton had lost her convention bounce.
Virginia appears to be back in-play as Clinton only leads by one point, well within the margin of error.
In Iowa, previously a toss-up state, Trump surged to a 5 point lead in Friday polling re-positioning the state as leaning Republican.
Those two polls alone have put Trump within striking distance in CDN's 2016 electoral analysis.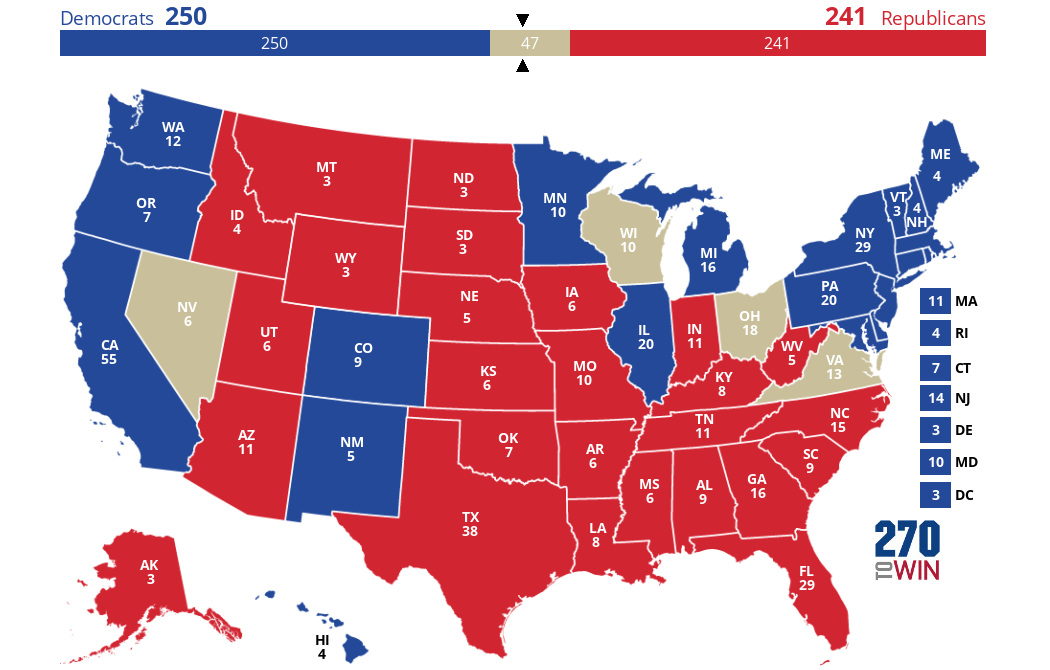 Click the map to create your own at
270toWin.com
This far into the campaign and there are pundits, pollsters and political consultants still struggling to figure out why Trump's campaign strategy is working far better than Clinton's more traditional approach of focusing on the ground game, holding massive fund-raisers and spending truck loads of money on negative ads.
Trump is focusing on holding frequent massive rallies, doing outreach events and holding press conferences. All things the Clinton campaign has avoided as much as possible.
Hillary all but disappeared in August, spending the majority of her non-nap time at fund-raisers with celebrities and bankers. Seeing the abysmal attendance at her American Legion appearance last week, there may be good reason to avoid the public.
https://twitter.com/redlanews/status/771149826755063809
When Trump made an appearance the next day at the same venue, there wasn't an empty seat in the house.
Crowd seems to be slightly bigger today awaiting Donald Trump's speech at American Legion Convention. @WCPO pic.twitter.com/xDd4CRttq7

— Paula Christian (@PaulaChristian_) September 1, 2016
Support Conservative Daily News with a small donation via
Paypal or credit card
that will go towards supporting the news and commentary you've come to appreciate.