New Poll shows problems growing for Clinton in .. Pennsylvania??
Pennsylvania has been part of Hillary's blue wall strategy against opponent Donald Trump, but with the release of a new poll – the wall continues to crumble.
Hillary has lost ground in Nevada, Colorado, Ohio, Indiana, Virginia, New Hampshire, Maine and now Pennsylvania in what many experts are marking as the downward spiral of Clinton's campaign.
The Muhlenberg College/Morning Call survey of 486 likely voters shows that in a four-way race, Clinton is only 2 points ahead of Trump in the Keystone State (40% to 38%) which puts Pennsylvania well within the margin of error.
Just a week ago, Hillary held an 8-point lead in the same poll .
The favorable/unfavorable line in Pennsylvania has also turned against the troubled Mrs. Clinton.
Trumps Numbers
One of the crosstabs show something that should genuinely alarm Clinton's campaign – Pennsylvania women are turning away from Clinton and moving to Trump (parentheses indicate the results from the Sept. 12-16 survey for reference.)
The debate on Monday night could either quicken or reverse Hillary's disastrous spiral to defeat so it is difficult to make changes based on a single poll, but numbers are numbers and these have consequences.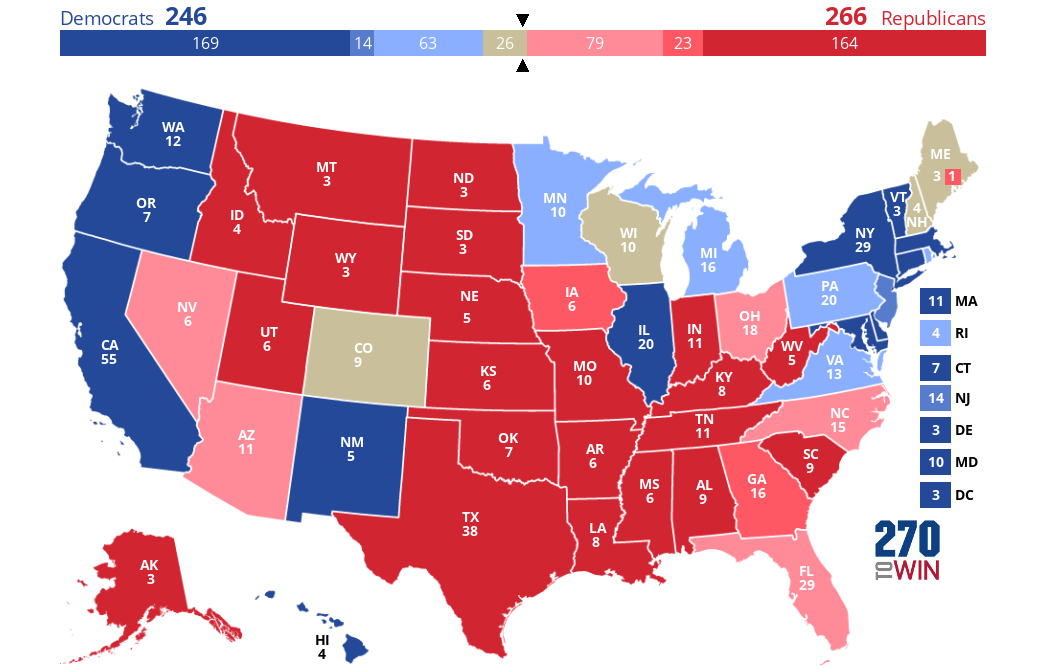 Click the map to create your own at
270toWin.com
Support Conservative Daily News with a small donation via
Paypal or credit card
that will go towards supporting the news and commentary you've come to appreciate.