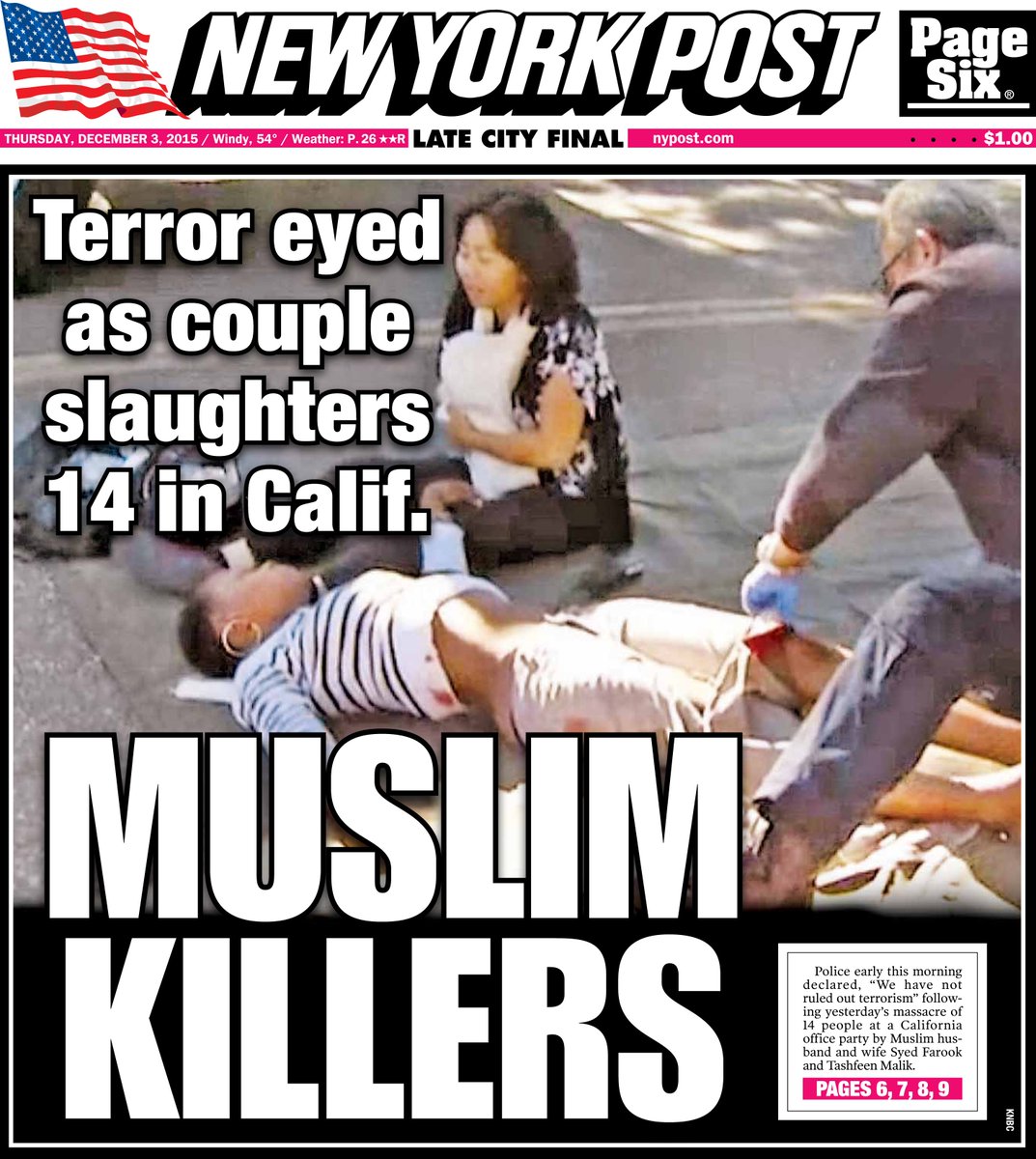 SAN BERNARDINO, Calif. (December 3, 2015) — A heavily armed Muslim man and woman dressed for battle opened fire on a holiday banquet for his co-workers, killing 14 people and seriously wounding more than a dozen others in a precision assault, authorities said. Hours later, they died in a shootout with police. Authorities were trying to determine a motive, which could include Islamic terrorism.
Gaffney: 'Doing their duty' under sharia
Gaffney
"The way the perpetrators thought of it, I believe – again, based on the evidence that's available so far – is that they were doing what it is their duty to do under sharia, which is to wage holy war against non-Muslims in order to advance the triumph of their faith, of sharia.
"Cynicism is warranted especially when we're confronting a program, this sharia doctrine, if you will, that has explicitly as part of its manifestation something called taqiyyah, [which] is essentially Arabic for 'lying for the faith.' If it's in the interest of the faith to dissemble particularly infidels, you are to do it, you have permission; it is obligatory."
Frank Gaffney, Center for Security Policy
American Family Radio (December 3, 2015)
Wednesday's shooting happened at a social services center for the disabled where the suspect's colleagues with the San Bernardino County Department of Public Health were renting space for a celebration. It was the nation's deadliest mass shooting since the attack at a school in Newtown, Connecticut, three years ago that left 26 children and adults dead.
San Bernardino Police Chief Jarrod Burguan identified one dead suspect as Syed Rizwan Farook, 28, the other as Tashfeen Malik, 27, his wife or fiancee. Burguan said Farook was born in the United States; the chief said he did not know Malik's background.
The attackers invaded the Inland Regional Center about 60 miles east of Los Angeles around 11 a.m., opening fire in a conference area where county health officials were having an employee banquet, said Marybeth Feild, president and CEO of the nonprofit center.
"They came prepared to do what they did, as if they were on a mission," Burguan said.
Farook attended the event before leaving — and returning to kill.
Co-worker Patrick Baccari said he was sitting at the same table as Farook, who suddenly disappeared, leaving his coat on his chair. Baccari said when the shooting started, he sought refuge in a bathroom and suffered minor wounds from shrapnel slicing through the wall.
Baccari described Farook as reserved and said he showed no signs of unusual behavior.(some reports  said he got into a heated argument when he left) Earlier this year he traveled to Saudi Arabia and returned with a wife, later growing a beard, Baccari said.
The FBI is investigating several possible motives, including workplace violence and terrorism, according to David Bowdich, assistant director of the bureau's Los Angeles office. He did not elaborate.
Farook was a restaurant inspector for the health department, according to public records. Police chief Burguan said he had been a county employee for five years.
The couple dropped off their 6-month-old daughter with relatives Wednesday morning, saying they had a doctor's appointment, Hussam Ayloush, executive director of the Council on American-Islamic Relations, said after talking with family. Farhan Khan, who is married to Farook's sister, told reporters he last spoke to his brother-in-law about a week ago. He said he was in shock, condemned the violence, and had "absolutely no signs of unusual behavior.
That the violence happened at a place dedicated to helping people with developmental disabilities — even if they were not targeted — made it even harder for some to comprehend.
According to its web page, the center has a client base of more than 30,000 people and their families. It is a privately run nonprofit, the largest of its kind in California with about 670 employees..
Three explosive devices — thought to be real and all connected to one another — were found at the social service center and later detonated by a bomb squad, police said.
A third person who was spotted running near the gunbattle was detained, but Burguan said it was unclear if that person had anything to do with the crime. At a late-night news conference, Burguan also said that early witness accounts of three shooters were probably wrong: "We are reasonably confident at this point that we have two shooters and we have two dead suspects."
President Barack Obama urged the country to take steps to reduce mass shootings, including stricter gun laws and stronger background checks.
"The one thing we do know is that we have a pattern now of mass shootings in this country that has no parallel anywhere else in the world," Obama told CBS. Was California massacre an act of Islamic terrorism?
What an asinine statement coming from the guy we call a president. Don't forget Obama said he would side with the Muslims and that's just what he has always done.
When he was in Paris recently he was asked about the Colorado shootings. At that time he said things like that don't happen in other countries. Is he living on another planet? Just three weeks earlier 138 people were killed in the very city he was making that statement in. Just a year ago Charlie Hedbo magazine was attacked. In Mali recently a market area was attacked and bombed. There was a mass beheading in Iran of Christians by ISIS and the list goes on and on. Let's not forget Benghazi. It happens all over the world not just here, but Obama hates America. To him America and white people are the enemy and cause of all the world's problems.This is what you get when you don't vet a Presidential candidate properly. Just how much proof do the American people need to  know  that terrorists and ISIS members are here and living among us waiting to kill us. What more evidence do you need that this was an Islamist terrorist attack? Obama as usual is covering up for his Muslim friends not calling it what it is; "Islamic Terrorism."
Now Farook's brother in law and father are acting so innocent like they were completely unaware he would do such a thing. His whole house was filled with thousands of rounds of ammunition, long rifles, hand guns and pipe bombs.CNN reported authorities found 2,000 9 mm rounds and 2,500 .223 rifle rounds  at the couple's home, 12 or so pipe bombs and hundreds of devices and products that "could be used to construct IEDs or pipe bombs," Burguan said. "We still don't have a motive … [but] they were equipped … and they could have done another attack."
You mean to tell me they never went over there and never saw anything? Muslims lie according to the Koran and to cover up for one another.
A neighbor said she saw a lot of packages being delivered to the house and groups of Muslim men about 4 or 5 coming in and out of the house all hours of the night, but didn't say anything for fear of being called racist. That says it all in a nutshell. They are always saying, "If you see something, say something," but as soon as you do you are branded a racist. This is what Political Correctness has come down to and caused these Muslim terrorists count on.  Note the death and destruction of only two Muslims who came to America. Imagine the carnage with a hundred thousand Syrian "refugees" distributed inside America. Welcome to Obama's America. Be afraid my friend, be very afraid.
JIHAD COMES TO CALI…
Killer Wrote Of Spending Free Time At Mosque, Memorizing Quran…
Left Remote Controlled Bomb at Party…
IED-making tools, 'Boston Bomber-style' explosives…
Dropped baby off at grandma's…
Suspicious Neighbor Didn't Report — Fear Of Being Called RACIST!
Saw Half-Dozen Middle Eastern Men Leaving Apartment..
Support Conservative Daily News with a small donation via
Paypal or credit card
that will go towards supporting the news and commentary you've come to appreciate.