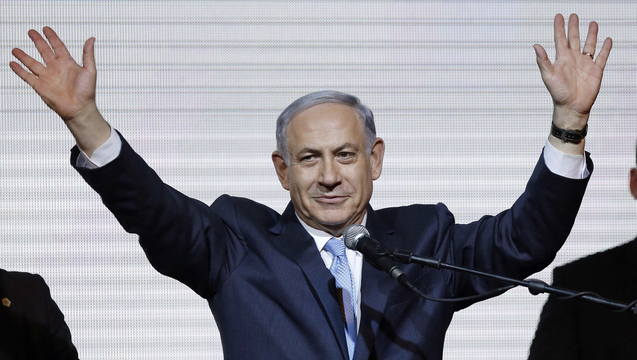 Netanyahu won in a landslide election after Obama's best efforts to unseat him using our taxpayer funded dollars. This is unprecedented. Never in our history has a sitting president interfered so much in another country's election in an effort to unseat him with all his hacks and aides on the ground there. To make matters worse Obama did not even bother to call Bibi to congratulate him instead giving the lame excuse he was busy in Cleveland talking about the economy and putting together a coalition. Nancy Pelosi didn't bother to call and neither did several other important dignitaries in Obama's administration which would have been the classy thing to do. Only Kerry called to congratulate him.
Prime Minister of England David Cameron called Bibi and showed real class in his call congratulating him. Obama has more contempt for Netanyahu than he has for North Korea, Syria and  Iran.  He called Putin when he won, he called Morsi, the head of the Muslim Brotherhood in Egypt who called the Isrealis descendants of apes and pigs, when he won and called the heads of Saudi Arabia and Iran when they won, but not Netanyahu. He has more ability to work with dictators than people who run democratically. He reaches out to people like Al Sharpton, the Muslim Brotherhood and C.A.R.E. This should tell all who voted for him where his true allegiance lies.
Obama is petulant, arrogant and refuses to say radical Islam or radical terrorism. Bibi is straight forward, courageous, has moral clarity and recognizes evil in our time. He warns people the dangers of Iran or any other country of getting the bomb. Obama's Iran deal allows Iran to get the bomb in ten years when he's no longer in office. The Iran deal also says if Iran accepts then the U.S. will take HAMAS and Hezbollah off the terror watch list. WHAT??????
 Obama's chief of staff will give a speech to a major advocacy group that opposes Israeli Prime Minister Benjamin Netanyahu.
White House chief of staff Denis McDonough's address to the J Street group indicates that the administration will seek to strengthen voices that challenge Netanyahu. After his victory in Israel's elections this week, the White House said it had to reassess its approach considering Netanyahu's hard veer to the right in the campaign.
J Street is an Israel advocacy group that often criticizes the Israeli government – and especially Netanyahu. The group calls Netanyahu's election victory a "deep disappointment" and accuses him of winning by shredding U.S. bipartisanship on Israel and "preying on fear and racism at home."
I saw on FOX last night that Obama finally called Netanyahu to congratulate him. Isn't  that like the proverbial closing the barn door after the horses are in?  He only did this after half the world criticized him for not doing so.Of course he will come up with his flimsy excuse that he was busy speaking in Cleveland. He also assured Bibi of our close ties with Isreal. There he goes again saying the opposite of what he really means.  What a fake,fraud and phony.   
Obama called for his idea of mandatory voting (like in North Korea) "transformative."There's that word used by him again. He said he would transform America and this is part of it. He said mandatory voting would change the map of the country. He's just royally PO'ed that his party lost in the mid-term elections because not enough voters came out. What's he going to do?Arrest you for not voting? Not voting is a choice too. This administration and libs are only pro-choice when it suits their needs. Like one comment I recently saw said, "Like his fellow muslim brothers, this pathetic excuse for a U.S. president will stop at nothing, even if he shows us once again how petty he is."
 Obama admin threatens Netanyahu with consequences » News — GOPUSA »
» Obama wants to transform America withmandatory voting » News — GOPUSA
Support Conservative Daily News with a small donation via
Paypal or credit card
that will go towards supporting the news and commentary you've come to appreciate.