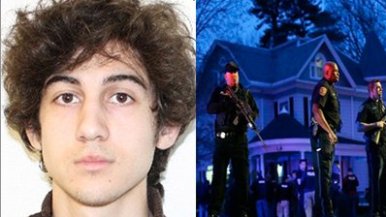 After an intense standoff the second marathon bomber suspect was captured covered in blood, but alive hiding in a boat in a neighborhood back yard. The neighbor went out to check on his boat and noticed a strap torn which was unusual. He found blood stains and bloody clothes tossed outside and what looked like a body hiding in there. Rather than confront the person, he did the right thing and silently went back into the house and had his wife call 9-1-1 which led police and FBI agents to the house. After several hours with the police using a robot and flashbombs the suspect came out and was taken to the hospital.
Now maybe we can get some answers as to why they did this horrible deed, the reason behind their thinking and who if anyone else is behind them, etc. The older brother Tamerlan, who was killed, obviously influenced the younger one. A foreign country, presumably Russia, warned our FBI in 2010 to watch out for him. They interviewed him and found him to be clean and didn't see any reason to arrest him. In January of 2010 Tamerlan left for Russia for six months. When he came back he was different and more in tune with a strict Islamic fundamentalism in him. He posted jihadist videos on his twitter account. He was close to his younger brother Dzhokhar and must have influenced him in his radicalization.
PAPER: Obama lulled America into false confidence over terror threat...
3 Individuals Taken Into Custody by FBI in Connection with Manhunt...
Married, had daughter after woman secretly converted to Islam...
Relatives were worried about older brother's influence...
Changed TWITTER account to read, 'Salam Aleikum'...
MOM: FBI monitoring my boys for years...
AUNT: 'WHERE IS EVIDENCE? I'M SUSPICIOUS THAT THIS WAS STAGED'...
Uncle: Men Lived In Cambridge For Decade; 'Absolutely Deserved' To Die...
Support Conservative Daily News with a small donation via
Paypal or credit card
that will go towards supporting the news and commentary you've come to appreciate.