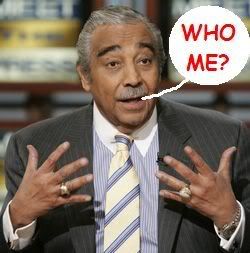 Rangel Introduces Resolution to Repatriate POW/MIAs and Abductees From North Korea
 Charlie-boy…You're late to the party again! Wassup wid dat? I remember how you stood by silently as Mssrs. Kerry and McCain worked very hard to STOP the duly constructed Senate Select Committee on POWS/MIAS from the successful completion of their mission to your fallen brothers and ALL WE VETERANS.
I ask YOU Charlie WHY YOU waited until the 50th aniversary to start to make some noise when there has been an ongoing advocacy for this for a Hell of a long time, which YOU did NOT jump in front of to take the political lead on, WHEN SUCH WAS DESPERATELY NEEDED, by pressuring BOTH party members and State Departments over the years?
I ask YOU Charlie WHY YOU failed to step forward, when in 1992 Presidents H.W. Bush and Yeltsin formed the U.S.-RussiaJointCommissionOnPOWs/MIAs, TO LEAD THAT EFFORT?
I ask YOU Charlie WHY if you are such a sincere and wonderfully inclined person today is this the true picture of you painted yesterday:
| | |
| --- | --- |
| Congressman Charlie Rangle (D-NY) GUILTY of Ethics Violations | |
https://www.leftandrightnews.com/tag/charlie-rangel-guilty/
A House ethics subcommittee found Democratic Representative Charlie Rangel guilty of violating several House conduct rules. The House Committee on Standards and Official Conduct convicted the Representative from New York on 11 of 13 separate violations.
…and WHY have YOU, Charlie Rangel been not held to account by Law for your behaviors?
I ask these questions of YOU as a citizen pondering why you have not been held legally accountable for your many violations of the public trust?
There is ample evidence that would be known to you, Mr. Rangel, had YOU had even the slightest interest during your political career, that many such POWs/MIAs were tranferred to Russia for brainwashing and medical experimentation. Excuse me Mr. Rangel, but you have more access to secret documentation than I do, so you should be REALITY COGNIZANT OF the information noted in this section of 'public information':
POWs and MIAs: Status and Accounting Issues
SUMMARY
of this report:
I have this in my files and excuse my inquisitiveness, but this curious citizen ponder upon just this…
WHY it's not in yours?
Excuse me if I question your motives now as TAKING ADVANTAGE of YOUR brother Korean War vets for some apple-polishing to an image that has YOU teetering on the brink of political survival and open to local challenge from your own NY district.
You earned our respect as a soldier for your more than honorable service during that war, but then earned our disdain as a civilian politician in all the years that followed. Behavior during one part of life does NOT wipe the slate clean for the behavior during the other. That is NOT how life works and how the value of a man is assessed.
Support Conservative Daily News with a small donation via
Paypal or credit card
that will go towards supporting the news and commentary you've come to appreciate.