Pope Francis will canonize Blessed Charles De Foucauld, considered to be one of the pioneers of interreligious dialogue, during a special Mass in St.,Peter's Basilica on May 15, 2022 along nine others. Blessed de Foucauld lost his faith during his adolescence. However, during a trip to Morocco, he saw how Muslims expressed their faith, so he returned to the Church After his ordination to the priesthood in 1901, he chose to live among the poor and finally settled in Tamanrasset, Algeria, until 1916, when he was killed by a band of marauders.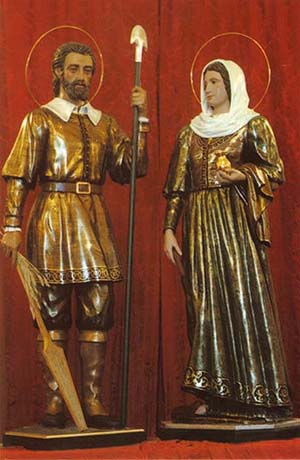 According to Vatican News, Pope Francis is scheduled to canonize in the Vatican ten new saints on May 15 2022: Blessed Titus Brandsma, a Dutch, Blessed Marie Rivier, French, Blessed Carolina Santocanale, an Italian nun, Blessed Charles de Foucauld, a French, Blessed Devasahayam Pilla from India, Blessed Cesar de Bus born in France, Blessed Luigi Maria Palazzolo, an Italian priest, Blessed Father Justin Russolillo was an Italian priest, Blessed Anna Maria Rubatto, Italian, Blessed Maria Domenica Mantovani, from Italy. You can read a brief introduction for each at end of this writing.
We are all called to become saints, to be perfected in charity, to grow in holiness. Not only are we called to that, it is made possible through Jesus Christ. In its dogmatic constitution on the Church, Lumen Gentium, the Second Vatican Council affirmed the teaching of Jesus Christ, the clear teaching and witness of the early Church and the consistent teaching of Church Councils throughout the ages – holiness of life is not an option, for any member of the Church. We are all called to Christian perfection, "all the faithful, whatever their condition or state, are called by the Lord, each in his own way, to that perfect holiness whereby the Father Himself is perfect" (Lumen Gentium, Light to the Nations, 11).
According to the Catholic Company, you don't have to move mountains to be a saint. You don't have to write theological works, be a visionary, or found a religious order. You certainly don't need any kind of worldly standing or lofty profession. The humblest life can be the pathway to great sanctity. St. Isidore the Farmer comes to mind: was a simple man who worked all his life as a farmer for a wealthy landowner, Juan de Vargas, near Madrid. His wife Maria is also a saint. Together they were hardworking, charitable people, and generous towards the poor. St. Isidore often brought home hungry workers to share his table lest anyone suffer want. It is said that once, Maria ran out of stew to feed them—but it miraculously replenished itself, enough for them all! – You can read all about the the captivating story of St Isidore by contacting getting The Catholic Gardener's Spiritual Almanac from The Catholic Company: Here is a sneak peek: St. Isidore's fellow workers noticed that he was sometimes late coming to the field because he would go to Mass first. When his boss looked out the window to see if this was true, he saw an angel plowing the field in Isidore's place. Another story says that the landowner, wondering how St. Isidore got so much done in so short a time, saw angels plowing on either side of him.
So we can all be Catholic saints like Saint Isidore The Farmer? While all of us are called to be saints, not all of us can make it through the rigorous, scientific- based process used by the Catholic Church – just like passing through the eye of the needle. So how does one become a Catholic saint? According to the US Catholic Bishops website: All Christians are called to be saints. Saints are persons in heaven (officially canonized or not), who lived heroically virtuous lives, offered their life for others, or were martyred for the faith, and who are worthy of imitation.
In official Church procedures there are three steps to sainthood: a candidate becomes "Venerable," then "Blessed" and then "Saint." Venerable is the title given to a deceased person recognized formally by the pope as having lived a heroically virtuous life or offered their life. To be beatified and recognized as a Blessed, one miracle acquired through the candidate's intercession is required in addition to recognition of heroic virtue or offering of life. Canonization requires a second miracle after beatification. The pope may waive these requirements. A miracle is not required prior to a martyr's beatification, but one is required before canonization Elizabeth Melimopoulos and Anna Nigmatulina have compiled an extensive list of the process that a Cartholic saint must go through and as always, there is the simpler version.
Brief introduction to the Ten New Saints as of May 15, 2022
Blessed Titus Brandsma, a Dutch Carmelite friar who was arrested in January 1942 and sent to Dachau for treason after defending Jews and freedom of the press. He was one of more than 2,700 clergy — 2,400 of them Catholic priests, who were detained at the Nazi concentration camp in Germany after he urged editors of the Dutch Catholic press to violate a new law of the Third Reich and not print any Nazi propaganda. .
Blessed Marie Rivier born in France experienced a bad fall as a baby and was left severely handicapped, but her pious mother faithfully carried her to a statue of the Pieta every day. Marie meditated often on the great love she beheld in the Pieta. She became convinced the Blessed Mother would cure her. On September 8, 1774, Marie walked! Blessed Marie founded the Sisters of the Presentation of Mary in 1796 during the time of the French Revolution, when many Catholic convents were closed and religious activities were outlawed.
Blessed Carolina Santocanale, an Italian nun founded the Congregation of the Capuchin Sisters of the Immaculate of Lourdes. Born in nobility class near Palermo, as she grew older, she felt called to the religious life. In the end, Carolina began going door to door in poor neighborhoods, wearing a backpack of supplies to assist the sick and the poor. On 24 January 1923, she founded the Capuchin Sisters of the Immaculate of Lourdes.
Blessed Charles de Foucauld was born in Strasbourg, France, left an orphan at only six years old. Although his grandfather attempted to raise him and his sister in the Church, he strayed from his faith during his adolescence. He became a soldier, but, lazy and restless. Like the prodigal son, he threw parties and spent money that he had inherited when his grandfather died.. After leaving the army, he decided to explore parts of Morocco. During his time there Charles recognized how devoted many of the Muslims were to their faith, and this inspired him to look at his own faith. When he returned to France e met with a priest, Fr. Huvelin, and after an encounter with Christ during confession and Holy Communion, he felt his life had forever changed. He wanted to found an order and after a long period it was finally given setting out to Tamanrasset, Algeria, where he founded the Little Brothers of Jesus. as left orphan an a He would spend the rest of his life there serving the poor and immersing himself in a life of prayer, but no one would join him as a follower. In 1916, he was killed by a band of marauders. His writings inspired the foundation after his death of the Little Brothers of Jesus and the Little Sisters of Jesus. Many pray his prayer of abandonment.
Blessed Devasahayam Pillai, known as Lazarus, an Indian layman converted to Catholicism from Hinduism, and was killed in 1752 for refusing to refute his faith despite being brutally tortured. Pillai was an official in the court of the king of Travancore, Maharaja Marthanda Varma, when he came under the influence of Dutch naval commander, Captain Eustachius De Lannoy, who instructed him in the Catholic faith. He is believed to have been killed by the Travancore state for upholding his Christian faith.
Blessed Cesar de Bus was born in France became the founder of the Fathers of Christian Doctrine, a religious congregation dedicated to education, pastoral ministry, and catechesis. Cesar de Bus began his career in the army but after a serious illness he began to consider that the priorities of his life were out of order. Soon after looking at this, he began to seriously pray and discern God's will for his life. He became a priest and worked with the poor and underprivileged in rural areas. Always emphasizing catechism, he believed that learning about God belonged first in the home. The term "family catechesis" was coined at this time following his teaching.
Blessed Luigi Maria Palazzolo, an Italian priest and founder of the Congregation of the Sisters of the Poor. The youngest of 8 boys, his father died when Luigi was about 10 years old. Ordained a priest in the diocese of Bergamo, Italy, in June 1850, he would devote his life to the care of neglected children. He founded several homes and orphanages to this end. Along with Venerable Maria Teresa Gabrieli, he founded the Congregation of the Sisters of the Poor for the care and education of neglected girls. He suffered from severe respiratory problems and had to sleep sitting up during the last year or so of his life.
Blessed Father Justin Russolillo was an Italian priest who founded the Society of Divine Vocations for men and the Vocationist Sisters for women. He was ordained a priest in 1913 and founded the Society of Divine Vocations for the purpose of developing and fostering vocations to the priesthood and religious life.
Blessed Anna Maria Rubatto, and Italian, was the founder of the order now known as the Capuchin Sisters of Mother Rubatto. Anna Maria was orphaned at an early age. According to an article on the saint. At the age of 38, a Capuchin priest convinced Anna Maria to enter their community. A year later she did and took the name Sister Maria Francesca of Jesus. Mother Rubatto opened 18 Capuchin houses in 20 years and died of natural causes in Uruguay in 1904.
Blessed Maria Domenica Mantovani, from Italy,  co-founded the Little Sisters of the Holy Family. When Pope John Paul II beatified her in 2003, he said:  "This praiseworthy daughter of the region of Verona, a disciple of Bl. Giuseppe Nascimbeni, was inspired by the Holy Family of Nazareth to make herself "all things to all people," ever attentive to the needs of the "poor people." She was extraordinarily faithful, in all circumstances and to her last breath, to the will of God, by whom she felt loved and called. What a fine example of holiness for every believer!"
Content created by Conservative Daily News and some content syndicated through CDN is available for re-publication without charge under the Creative Commons license. Visit our syndication page for details and requirements.
Support Conservative Daily News with a small donation via
Paypal or credit card
that will go towards supporting the news and commentary you've come to appreciate.