The first three days of fighting have not gone to Russian President Vladimir Putin's plan and he appears to be taking it out on his own people.
War in Ukraine
According to U.S. defense experts, Russia has put 2/3rds of all of its available combat power into Ukraine and the results are not as Putin would like.
Kyiv (Kiev), Ukraine's capital, the major port cities of Mariupol and Odesa, and all other major cities with the exception of Melitopol appear to be in Ukrainian hands despite massive armored assaults, shelling, missile/rocket barrages, amphibious landings, and airborne assaults. Putin's forces have also failed to establish air superiority over the former soviet state.
Other lines of attack were halted by stalwart Ukraine Army defenders and terrible logistics. Several armored columns and transport convoys stopped because they ran out of gas and food. Abandoned and destroyed Russian armored vehicles litter the countryside and, when inspected by Ukraine military, were found to be in severe disrepair.
Russian losses are heavy with a reported 4,300 dead soldiers and airmen, 146 destroyed tanks/armored vehicles, and 27 aircraft.
From TASS – a Russian News Agency – (as expected, this page was quickly removed after publication)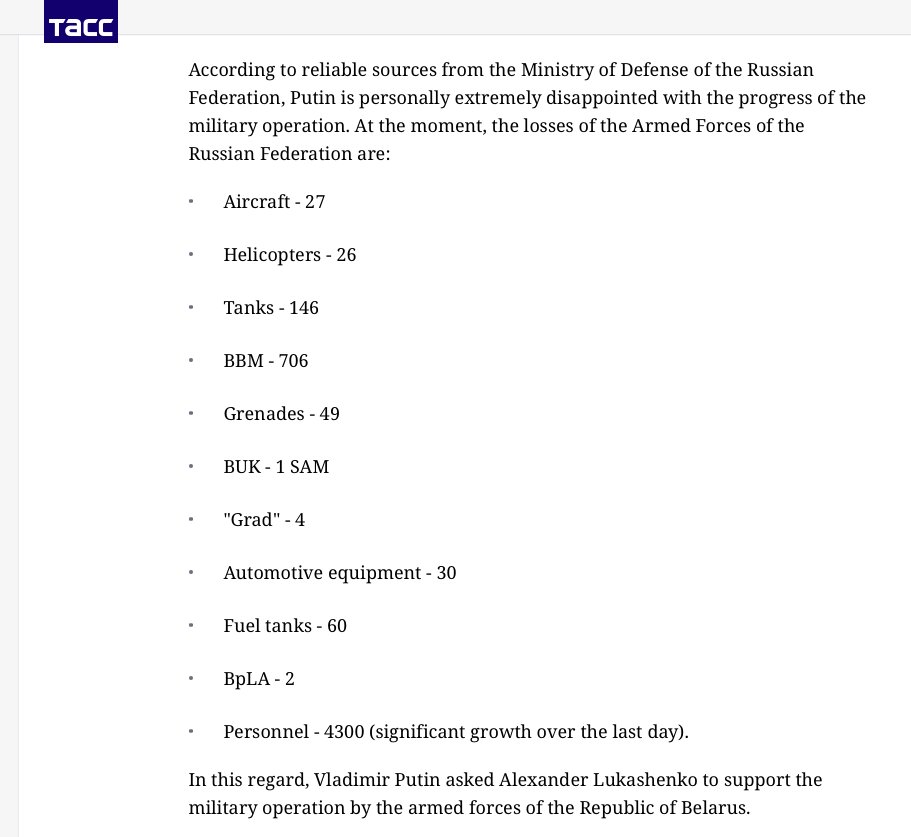 Sunday evening, there were reports of another set of amphibious assaults on both Odesa and Mariupol. One of the Russian fleet captains reportedly radioed a Georgian ship to ask for fuel and was told to "go f#@K yourself."
Diplomatic envoys were set to discuss peace in a meeting at the Ukraine-Belarus border Sunday. The meeting was to happen without preconditions. There is little confidence that anything substantive will come from it. This meeting has been rescheduled for Monday mornign.
The World Responds
U.S. and European leaders have agreed to remove most of Russia's banks from SWIFT, an international network used to securely communicate money transfers. The intention is to make it more difficult for Russia to turn its vast reserves into hard assets or other currencies. World leaders on Saturday were discussing how to avoid disrupting energy-related transactions in moves that would seem to weaken the force of kicking Russia off SWIFT.
More than 25 nations have pledged or already sent aid into the country.
The European Union is sending an undisclosed number of Russian-made fighter jets from Bulgaria, Slovakia and Poland to Ukraine. Poland has SU-22s and Mig-29s that fit that description, but only the Mig-29s would match Ukrainian Air Force inventory. Bulgaria has SU-25s and Mig-29s which Ukraine has trained on. Slovakia has Mig-29s that might enter the conversation. All three supplying countries also have F-16s and other US aircraft in their inventories, but the Ukraine Army has not trained on these airframes.
The United States has authorized $350 million in aid to Ukraine. The money will likely go to lethal aid, medical supplies, fuel and food. Late Sunday, the U.S. announced it would send 500 stinger anti-air missiles directly to Ukraine. Previously, America had just given permission for Estonia to sell Stingers to Ukraine.
Germany has abandoned its stance against sending weapons to Ukraine. On Saturday, Germany announced it would be sending 1000 portable anti-tank weapons, and 500 Stinger man-portable anti-aircraft systems (MANPADS).
Sweden announced Sunday that it would send 5,000 anti-tank weapons (AT-4s) to Ukraine.
Belgium will provide 3,800 tons of fuel and 2,000 machine guns.
The Netherlands will supply 50 Panzerfaust-3 anti-tank weapons with 400 anti-tank rockets, and 200 air defense rockets.
The Czech Republic is sending $8.57 million to Ukraine.
Slovakia is sending $12.39 million in aid to Ukraine.
Due to Russia's aggression in Ukraine, Finland signaled Saturday that it might be interested in joining NATO. A spokesperson for the Russian Foreign Ministry said that the nordic country would "face some military and political consequences" if they became a NATO country. Finland's ambassador to the United States said that they didn't see Russia as a threat.
On Sunday, the EU announced that all Russian and Belarussian aircraft of all types, including private planes, would be banned across the European Union. The EU is also blocking all Russian state-owned broadcasts (RT, Sputnik, etc).
Russia Taking Failure Out on … Russians
Russia is reportedly turning its conscripts, those fulfilling a national military enlistment, into contract soldiers. This process is normally voluntary and takes several months. It is now being done by force and the newly contracted soldiers are immediately whisked away.
"Mothers are telling us that their sons have been calling them and saying they're being forced to sign contracts. We believe it's wrong to force a conscript to become a contract soldier," Larkina said, according to the translated article. "The parents who have gotten in touch have told us their sons were just taken by military officers, stamped, and that's it — now they're contract soldiers."

Translated from a report by Russian investigative news outlet Meduza
In truly Stalin-esque fashion, Russian soldiers are being forced to attack Ukraine under threat of being shot.
Dissent in Russia is widespread, but it is not going unpunished. Both Twitter and Facebook, among other social media platforms, have been blocked in Russia as Putin hopes to prevent failures in Ukraine from reaching home. Russian police are also rounding up anti-war protesters by the thousands.
Putin Getting Desperate
With financial sanctions starting to bite, out-of-control public dissent and mounting military failures, Putin is getting desperate.
Belarussian troops were told on Saturday to be ready to fight within 48 hours. This will firmly move Belarus from Russian puppet state to active combatant. Missiles and aircraft have been launched in Belarus and targeted Ukraine. The EU will now target sanctions at Belarus.
Putin activated Chechen soldiers and sent them into Ukraine. Known for their brutality, the move is, by itself, an escalation.
Russia has also elevated the status of its nuclear forces from "constant" to "elevated". The status is the second of four.
This is a developing story and may be updated.
Content created by Conservative Daily News and some content syndicated through CDN is available for re-publication without charge under the Creative Commons license. Visit our syndication page for details and requirements.
Support Conservative Daily News with a small donation via
Paypal or credit card
that will go towards supporting the news and commentary you've come to appreciate.