Donald Trump has all the delegates he needs to clinch the GOP nomination while Hillary just can't find a way to put Bernie to bed.
Citing interviews with unbound delegates, the Associated Press is reporting that Mr. Trump has the nomination in the bag.
Trump was put over the top in the Associated Press delegate count by a small number of the party's unbound delegates who told the AP they would support him at the national convention in July. Among them is Oklahoma GOP chairwoman Pam Pollard.

"I think he has touched a part of our electorate that doesn't like where our country is," Pollard said. "I have no problem supporting Mr. Trump."
Trump currently has 1,238 delegates while only 1,237 are required to clinch the nomination.
To further pad his delegate count, five states vote on June 7th which could net Donald another 303 delegates.
Hillary is not doing as well.
Hillary has relied on gifted superdelegates and unpledged delegates to keep her ahead in the delegate count while winning fewer states than her Democrat rival Bernie Sanders.
One of her most important fights is on the Horizon and it looks like she may not win it either.
The poll, released Wednesday night by the Public Policy Institute of California, showed Mrs. Clinton leading Mr. Sanders among likely voters, 46 percent to 44 percent — within the margin of error. A survey by the organization in March found Mrs. Clinton with a lead of 48 percent to 41 percent over Mr. Sanders.
Failing to capture California could be a problem for Clinton. If she doesn't have the support of the heavily left-leaning state in the primary and the DNC continues to push her towards a coronation – they could be handing California to Trump.
So how is it that Hillary could loose the race she was groomed to win?
First, 20% of Sanders supports will flock to Trump should Sanders leave the race. Those aren't moderates – they are dyed-in-the-wool lefties. If Clinton leaves the race less than 10% of her followers will go Trump – but it's still 10%. Sanders voters are twice as likely to flee the democrat party and vote for Donald should Bernie get the boot – that's damning considering the amount of backroom, under-the-table delegate dealing the DNC is doing to make that happen.
Second, if Hillary can't capture California for the DNC, the general election is Trump's to lose.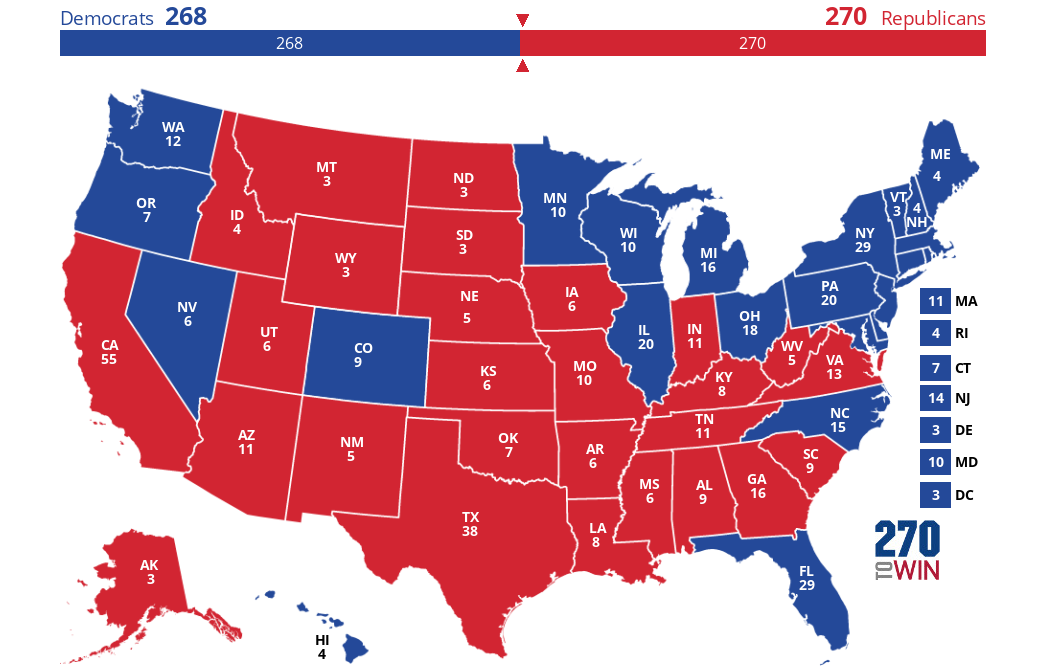 Click the map to create your own at
270toWin.com
If Trump can steal California due to stripping Sanders millennials and frustrated moderate dems, Hillary could take the whole Northeast (not likely), North Carolina (yeah right), Florida (not gonna' happen), Ohio, Colorado and Nevada and still lose.
Hillary's headaches ahead of the June 7th primaries could get more intense. Trump and Sanders have tentatively agreed to debate each other for a charity event. This agreement comes just after Clinton refused to debate Bernie ahead of the primaries.
Appearing on ABC's "Jimmy Kimmel Live" in a show that aired Wednesday night, Trump said he would be willing to debate Sanders if proceeds from such an event went to charity.

Within minutes of the statement airing, Sanders had agreed to the idea.
Game on. I look forward to debating Donald Trump in California before the June 7 primary.

— Bernie Sanders (@BernieSanders) May 26, 2016
Hillary now appears like an also-ran, instead of the presumptive nominee.
Support Conservative Daily News with a small donation via
Paypal or credit card
that will go towards supporting the news and commentary you've come to appreciate.