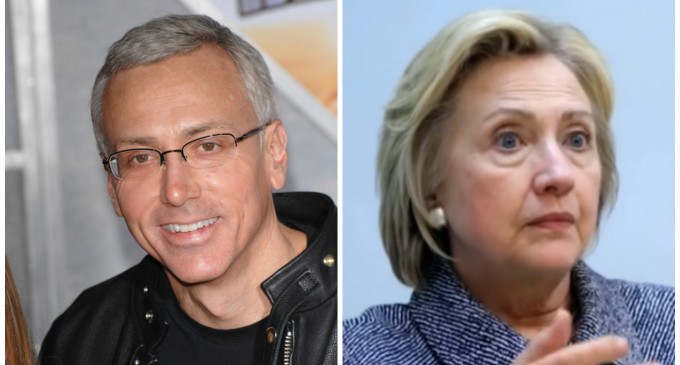 The mainstream media speculated about Ronald Reagan's mental fitness, Dick Cheney's heart, and whether John McCain could have a cancer relapse, but reporters seem to be giving a free pass to major health issues surrounding Hillary Clinton's presidential campaign. Clinton has a history of potentially serious blood clots — and is currently taking one of the most unpredictable prescription drugs on the market today- a blood thinner Coumadin used for people with blood clots..
In humans, anyone taking it, even a president – especially a president – requires constant supervision, including regular tests to ensure the blood doesn't get too thin.When it does, you could literally bleed to death.
Health questions have swirled around Clinton since a December 2012 fall that caused a concussion and led to a subsequent diagnosis of a blood clot near her brain. Clinton was knocked so hard she was seeing double for months – and had to wear glasses with special lines in them just so she could see straight.
Over the summer, Clinton tried to dismiss the persistent questions about her health by releasing a statement from her doctor that concludes: "She is in excellent physical condition and fit to serve as President of the United States."
Even more concerning, this drug's side effects include  severe headaches, fainting, coughing up blood, confusion, slurred speech and more.
Clinton appears to be prone to clots, which can lead to a stroke — something the media has talked little about. Her own doctor admitted that she suffered at least three clots (that we know of) in recent years. This included deep vein thrombosis in 1998 and 2009 (which usually occurs in the legs), and the third clot in 2012 that affected a vein that drains blood from the brain.
That clot could have led to a potentially fatal brain hemorrhage or stroke, doctors say.
Dr. Larry Goldstein, director of Duke University's stroke center, told the Associated Press that getting this type of clot was "not the most common thing" after a concussion. He explained that the clot formed in "a drainage channel, the equivalent of a big vein inside the skull" that brings blood back to the heart.
On Tuesday night's Dr. Drew pinsky's show he had a hematologist on and both were discussing Hillary and the fact that she has three blood clots, one in the brain and two in the legs and both agreed she was a very sick woman. She has been known to faint a lot and Bill says he is worried about her. Hillary's aid Huma Abedin has said that Hilary gets confused a lot and forgets things. "When you read she had a history of previous deep venous thrombosis in 1998 and 2009 – she's had twice a clot in her leg – these are serious clots that lead to something called pulmonary embolism, which can also cause sudden death," Pinksy said, according to Breitbart News.
"You think somebody who's a candidate for president [would] have one of the newer anticoagulants that are safer, and the indications for her staying on anticoagulants are kind of spurious," he added. "It makes me worry about the sophistication of the healthcare she is getting."
At a recent democrat debate Hillary was late coming back after the break and there were jokes about her taking a bathroom break, but people close to her said she felt faint. The last democrat debate on Sunday night ended seven minutes earlier. Could that have been related to Hillary's health?
This is very serious and the media is keeping a tight lid on it. The danger is that the heavy pressur of the campaign and even the job itself if she becomes president could kill her.
A recent comment I saw had this to say: Any blockage of blood flow "inside the skull" is a CVA (cerebrovascular accident) and that is a STROKE! They can rearrange the language anyway that they like but the truth is that Hillary had a stroke. Giving her Coumadin (the pharmaceutical brand name for one type of Warfarin) is often reserved for those who have the complicating factor of atrial fibrillation which also predisposes those patients to further strokes. Unfortunately, giving Coumadin also predisposes to cerebral hemorrhage (bleeding in the brain) which is an even more serious stroke. If Hillary is elected, the stress of being President could kill her–if the campaign doesn't get her.
Her docs have probably told her that she cannot campaign hard–the likely reason for turning Bill "the big dog" loose in N.H. They kept Bill quiet during Hillary's last campaign for the Presidency in 2008, but he is better than nothing–maybe–if he doesn't make any big bloopers. Debbie Washerwoman Schultz has warned Hillary's opponents that they had better not attack Bill, as it would likely not turn out well. Isn't it nice that she is so concerned about Bill's critics? *sarcasm off* The real reason is that they know Bill is most likely to make some stupid remark when pressed by criticism.
Recently Monica Crowley was on Sean Hannity's show talking about all of Hillary's problems with the e-mail scandal and Clinton foundation that might force her to drop out and be replaced by Joe Biden. Biden has said the one regret he has was not running for president. Well maybe this could be his comeback after he finds a cure for cancer that Obama appointed him to at the last SOTU speech of course. Only time will tell.
The Hillary health scare NOBODY is talking about – The Horn News
Support Conservative Daily News with a small donation via
Paypal or credit card
that will go towards supporting the news and commentary you've come to appreciate.