Elon Musk will NOT join Twitter's board of directors according to a late-night tweet from the company's CEO, Parag Agrawal.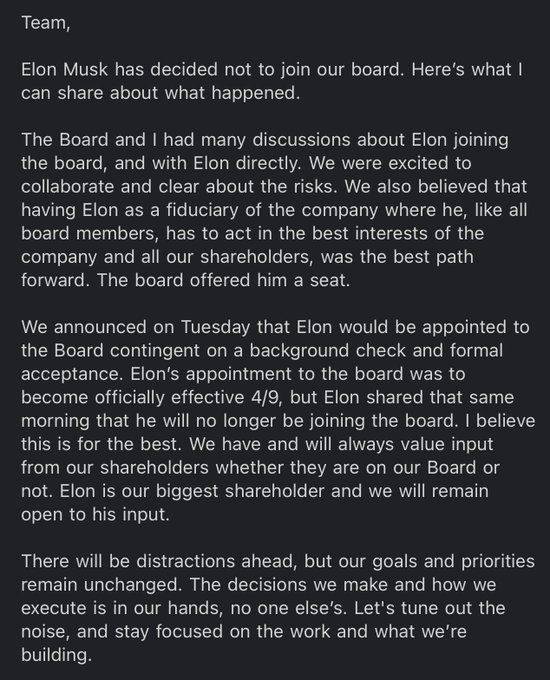 Musk would have become a board member on Saturday, April 9, but apparently thought better of it. The seat came with severe restrictions – namely he would not be able to own more than 14.9% of the company making a lone hostile takeover impossible.
Musk taking a position on the board would also have made him a fiduciary with responsibilities to the company and Elon has plans to transform Twitter, not just make suggestions.
As reported earlier, Musk taking a board seat and a 9.2% stake would in no way allow him to force major change at Twitter. Perhaps Elon sees the obstacle a board seat poses.
What Musk does next is anyone's guess, but if wholesale change at Twitter is his goal, ditching the board seat was a smart move.
Now, Agrawal's chess clock is ticking and Musk has already planned his next move – whatever that is.
Full Tweet from Twitter CEO on Musk's Refusal of Board Seat
For whatever reason, Agrawal's tweet won't embed, so here's a screenshot in case removal is planned:
Content created by Conservative Daily News and some content syndicated through CDN is available for re-publication without charge under the Creative Commons license. Visit our syndication page for details and requirements.
Support Conservative Daily News with a small donation via
Paypal or credit card
that will go towards supporting the news and commentary you've come to appreciate.