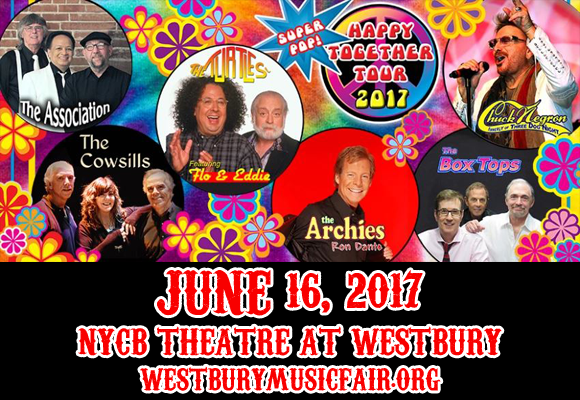 The Happy Together Tour is around again. For those of you who may not be familiar with the tour, it consists of famous oldies bands from the 60's with the original members doing all the songs we baby boomers grew up with. The Happy Together Tour features Howard Kaylan and Mark Volman (Flo and Eddie) from the Turtles featuring their hit song Happy Together and their comedic routines. The bands perform against a backdrop of kaleidoscopic images and films of them when they were in their prime. This is the third year in a row I've seen "The Happy Together Tour."Each year they have some of the same acts and some different ones.
This year's tour consists of Ron Dante from the Archies,  The Association, The Cowsills, the Box Tops, Chuck Negron from three Dog Night and of course Flo and Eddie of The Turtles.
Each of these groups are in their late 60's to 70's and don't look it. They look younger and sound the same as they originally did back then. It never ceases to a amaze me the energy these people have at their age and they aren't afraid to poke fun at their age either.
Leading off the show was Ron Dante of The Archies. Ron told about how he was a music producer and worked with Barry Manilow and they did commercials. He then proceeded to play some of the commercials he wrote and did such as McDonald's, Almond Joy, Beneficial Finance and a few others getting the audience to sing along. Ron told how he was contacted by Don Kirshner to do the voices and songs for a cartoon show based on the comic book Archie. Ron said sure and he did that for a few years and you could hear him on Saturday mornings. Ron did a few more songs and then lit into his mega hit "Sugar, Sugar."
Following Ron The Cowsills appeared. They started out as a family of seven people, their mother, daughter, and five brothers. They are down to only three now the young sister Susan, and two brothers Bob and Paul as the others are all deceased. And what energy do they display as they do their hit songs, "The Rain, The Park and Other Things,' "Indian Lake," and  "Hair" from the hit musical of the same name. Bob is the middle brother and he said he remembered changing Susan's diapers when she was born to which she replied, "I'll be changing yours now Bob" to which he replied, "That Depends," to laughter from the audience. The Cowsills – Wikipedia
Following the Cowsills, the Boxtops performed. Everyone knows them from their hit single "The Letter." They too look a lot younger from a distance, but close up they look closer to their age, but still look great. They did a tribute to Booker T and the MG's by doing their hit song 'Green Onions" much to everyone's applause and delight before breaking into The Letter.
Following the Boxtops, the Association appeared doing their hit song 'Windy". They sound exactly the same as then. Lead singer Jules Alexander said they started in 1965 and couldn't believe it was 52 years later. He joked with the audience about them having to get home early and apologized for keeping everyone up a past 8 p.m. "I know most of you go to bed after "Jeopardy," he said. He introduced their newest member who is from Hawaii and has been with them since 1972. They did all their hit songs,' "Along Comes Mary," Cherish," The Association | Biography & History | AllMusic
Following the Association, Chuck Negron of Three Dog Night Appeared. This is the third time I've seen Chuck on the Happy Together Tour and he is a riot and very talented getting the whole theater singing along. Chuck came out saying "I can't believe I'm 75 years old and still doing this stuff. Only he didn't say stuff. He said he has a 16-year-old daughter and she always says to him, "Where are you going?" and he replies,"I have concerts to do " and she says "yeah sure, Why don't you just sit home and burp and fart" he replied, "I don't burp." Chuck said his kids range from 16 to 48.
Chuck then went into "One is the Loneliest Number" getting everyone singing along. When he did the hit song "Eli's Coming" he proved he could really wail in holding that note "EE-EEEEEEEELLLIIIIIIIII'S coming" and of course the whole theater got up singing and swaying when he went into Joy to the World."
Finally, Flo and Eddie (The Turtles) came out. They started out doing a takeoff of Beauty and the Beast with Howard Kaylan in a beast mask and Mark Volman as Belle. They started doing the theme from Beauty and the Beast and Howard stopped the music saying this isn't right and they went into "She'd Rather Be with Me" a real toe stomper that they always do. This is the third time I've seen them and their act is always the same, but I enjoy seeing them anyway. They close their set with "Happy Together" and then get everyone out on stage doing a stanza from their songs.
It's quite a show And I felt like a kid again. If you get a chance to see them near you, by all means, do so.
I left some links to their performances some from a few days ago on the current tour.
The Cowsills (LIVE)–The Rain, The Park and Other Things–2016 Indiana State F (Live at Indiana State Fair last August)
Happy Together Tour – Hair The Cowsills Live at NYCB Theatre at Westbury June
Association – Never My Love – YouTube (from seven years ago)
Eli's Coming – Chuck Negron – Happy Together Tour 2016 @ Tarrytown Music Hall
Happy Together Tour – Joy To The World Chuck Negron (Three Dog Night) Live at
Happy Together Tour – Ron Dante of The Archies Sugar Sugar Live at NYCB Theatr  (from this month on the Happy Together Tour)
HappyTogether Tour 2017 Flo and Eddy – YouTube  (the Box Tops-The Letter. taken a few days ago)
Happy Together Tour – Happy Together The Turtles Live at NYCB Theatre at Westb
Support Conservative Daily News with a small donation via
Paypal or credit card
that will go towards supporting the news and commentary you've come to appreciate.