Hillary is losing states in domino fashion – one, after another, after another and last week held more bad news for the ailing extremist Democrat.
This week, the big changes are in Michigan and Virginia where Clinton had safe leads just a month ago – now both are almost toss-ups.
A Detroit Free Press poll put Hillary and Trump within the margin of error in Michigan. The survey also asked respondents which candidate's immigration stance they preferred.
53% of those asked favored Trump's immigration policy while only 35% think Hillary has the right answer.
A new University of Mary Washington poll put Trump within 3 points of Clinton in Tim Kaine's home state of Virginia where the democrat held a double-digit lead just a few weeks ago.
These two polls were held from the 9th to the 12th of September which puts the timespan mainly in-front of Hillary's "overheating" event on 9-11 and likely doesn't capture voter's sentiments on the ham-handed cover-up attempt by her campaign.
I discussed the polls that were released earlier in the week in Maine, Florida, Colorado and Nevada.
Taking the polls above into consideration there are a few changes in our electoral analysis:

Maine goes toss-up (-3 Hillary)
Maine CD2 goes likely GOP (no change)
We'll watch Nevada closely to see if it should be moved to leaning GOP
Colorado goes toss-up as long as Johnson stays in the race

Oh my word .. things are looking unsteady for the Democrat nominee…
I'm not ready to push Virginia and Michigan to toss-ups off of just these polls. Once we get some polling in those states that includes the collapse and cover-up of 9-11 in full, we may flip both. For now, here's the state of the electoral college by our analysis: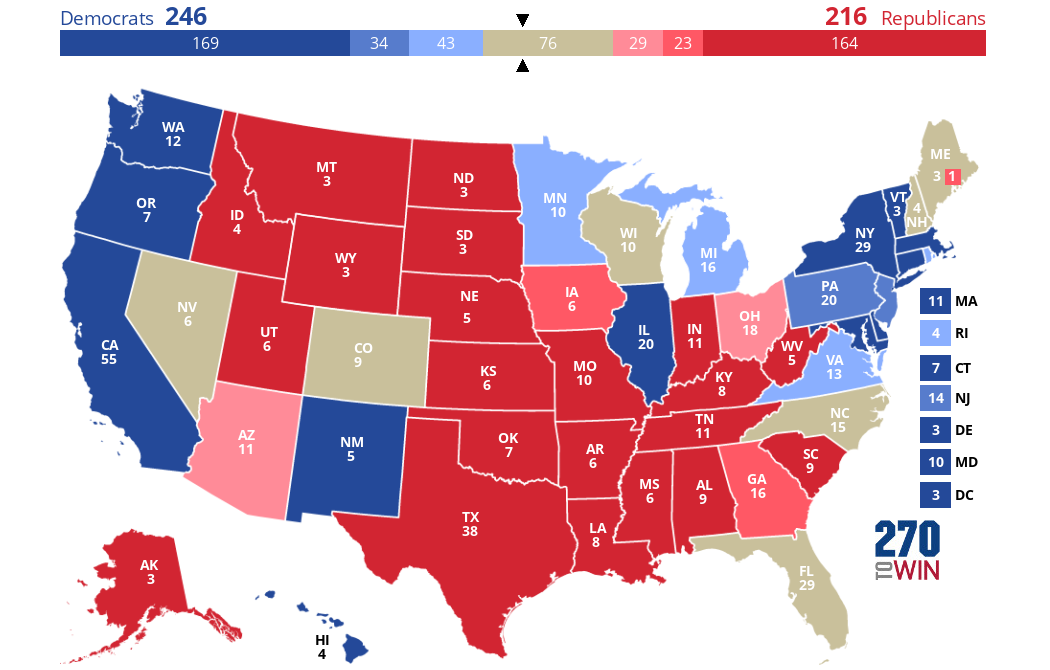 Click the map to create your own at
270toWin.com